Eric McCormack Teases Perception Season 3, Summer Cliffhanger & More

Sean McKenna at . Updated at .
Perception Season 3 has stepped up its game... from wild hallucinations such as the devil... to secret agents... to emotional moments with Daniel Pierce's father. And all the while, it continues to depict crime-solving in that fun summer fare fashion.
I recently spoke with Eric McCormack, who plays the brilliant Daniel Pierce, and who enthusiastically talked about getting into his character, filming in Paris and the cliffhanger summer finale that'll have you eager for more.
Read on for excerpts from the interview...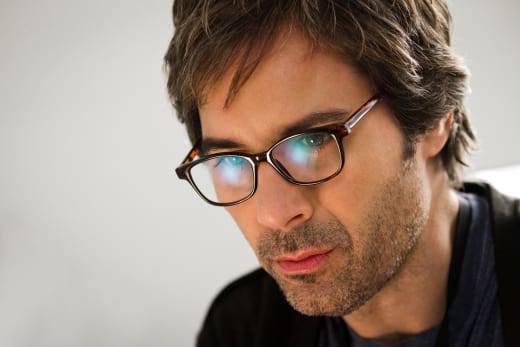 Have you had a favorite hallucination this season?
The homeless guy from two episodes ago in [Perception Season 3 Episode 8], which, spoiler alert, turned out to be me, was exciting. I think for an audience that is digging that part of it and looking forward to being surprised, I think that was a good surprise. And this [episode] coming up, there is a cop and a sort of real throwback to the 70s that is terrific.
When you do the scenes with the hallucinations, do you film everything with the hallucination and then without?
Yeah, and Kelly Rowland [who plays Natalie] gets used to that. Half the time she's not on screen, she's doing lines from off camera. And every actor that comes in, I have to say to them, "Remember, you're only interacting with me. No one else can look at you. Half the time we'll have you step off and have me acting with no one." Which can be fun for me. Sometimes I even ask that they don't say the lines so we get a real sense of the fact that for everyone else, it's just silence. I'm hearing something, but they are not.
You got to shoot in Paris for Perception Season 3 Episode 1, is there any other location you'd love to take the show to?
The show takes place in Chicago, and we've never really shot there, so that would be fun. It's occasionally cost prohibitive, but it would be fun to set that there. And there's no reason there couldn't be a crime in Bora Bora. They have crime, don't they?
How was it having LeVar Burton direct Perception Season 3 Episode 9 and Perception Season 3 Episode 10?
That was great. I think that happens with most shows that last long enough, you start pulling within the fold, and I directed the second episode which I think everyone thought was fun. But I was in every scene, so that's probably stressful for other people as it was for me at times. But with LeVar, he's such an easy going guy... you know what, easy going's the wrong word. He's on fire all the time. he's always so happy, and I think it's fueled through that juncture of the middle of filming 15 episodes. He was episodes 9 and 10. He was really great. And the one last week was quite possibly my favorite of the season in terms of how it fit together. The writing was great, but it was a lot of his energy too.
Do you feel more settled into the character of Daniel now that you're in Perception Season 3?
Honestly, I felt like even by the second season I was trusting my instincts on him and what worked and didn't. The cliche is always actors saying, "well my character wouldn't do that," but I think I'm pretty plugged in with Ken [Biller], who created the show, and we have great dialogues about like "Is this the best way to show this" and getting detailed in the hallucinations and how we present them or even the camera for the audience.
But just in terms of Daniel, I feel very plugged in, and I miss him, I miss being him. It takes a lot of energy for the six months shooting, but it very much suits the way my brain works, so I feel like where I love taking him is emotional stuff. We've introduced that kind of thing from the beginning but I think now, and especially the five that are coming in the winter time, we'll see a lot more emotional stuff, stuff between him and Kate, him and Natalie.
And as the audience knows, he said goodbye to Natalie, which was a big deal. We've had a lot of tweeting going on saying "where is she?" She's not gone forever, but for now, getting rid of his major security blanket is a big deal.
Have you ever had people come up to you and talk about the impact of the show with respect to awareness and representation of brain disorders, etc?
I do get a lot of that, particular on Twitter. I get a lot of "Thank you for showing that." I retweeted one the other day that said, especially in respect to the last episode involving me and the gunman, they were saying thanks for showing that this is messy and its difficult and metal illness is something that people don't always want to know that much about.
I think the area we've run into this season that's really interesting is of neuro-crime. The idea that you can't just plead insanity anymore, well, you can, but it's not that black and white. People are being found not guilty of crimes based on disorders that were not diagnosed, or even give a name, until last year or three years ago. I'm sure it's pissing off a lot of people who are pro death penalty and that kind of thing. But the truth is there are a lot of crimes for which some people are not responsible for if we're going to define what is responsibility and what is capability. It's a much more grey area than has ever been before and our show gets to explore that particularly.
What's been the most exciting thing for you working on Perception Season 3.
The most exciting thing was probably going to Paris. And the second most was getting to direct which was something I wanted to do for a long time and open that door to a new chapter. But really I think it was that sense of firing on all cylinders.
Any show takes time. And certainly when people talk to me about Will & Grace, I don't think of the first season, though I think about the second and third when the juices were flowing, when we all knew our characters, when the writers knew our voices. And [Perception Season 3] was a season where episode after episode, I would get the script, I would go to Ken [Biller], and we would refine, I was inventing more on the spot. It just felt very organic and that's nice, but that only really comes with television. With movies, very often you finish and in two months you're like I just thought of all these idea, but with this, I constantly get to bring new inspiration.
On the part of the writers, the idea that I have a father, a seed dropped in the second season, one I don't get along with. But to then suddenly say he has Alzheimer's and to have us fighting, and have him thinking I'm crazy... I mean that's a great relationship. Two guys who are brilliant and hard headed, and for each of them in a different way, their brains are destroying their ability to be everything they can be. [Actor Peter] Coyote just ended up be a stroke of genius casting wise. I think we look like father and son, and I think it was a nice piece of chemistry.
What can you tease about the summer finale?
Well, there is a great shocking opening. It's been set up the last two weeks in regard to Donnie running for office. And there is an ending that no one will see coming and people will have to wait six months to find out. Last year, I remember we had a great two episodes that ended the summer, but it wrapped itself up. There was no sort of cliffhanger. I think people will be like this time, "Damn. I wish it was February."
The summer finale of Perception airs 10/9c tonight on TNT.
NOTE: I also chatted with Rachael Leigh Cook about the Perception finale.
Sean McKenna was a TV Fanatic Staff Writer. He retired in May of 2017. Follow him on Twitter.