The perils of working and living on The Hill are a lot clearer after Manhattan Season 1 Episode 2.
From used sheets and dangerous stovetops to the torture of suspected spies, there is nothing average about living on The Hill.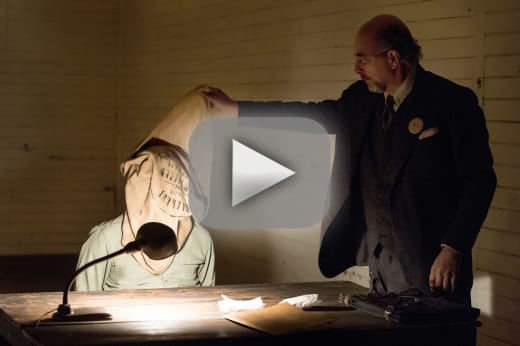 We find out just how little the scientists understand about the work they're doing when Sid is questioned at length about what he was going to do with the papers he took to from the office. Suggesting he planned on selling what he created to Eastman Kodak did little to help his cause. Anything even similar to that is considered treason.
Charlie, meanwhile, wishes they were using all of the brain power at their disposal to focus on particle beams or sonar to save lives. He cannot wrap his mind around the fact they are building something so devastating to mankind with the hope of saving more lives in the process.
Despite the failure of the test and their horrible dinner, Charlie thinks more along the lines of Frank not only with their similar concerns of saving lives, but their scientific minds are more in sync. Charlie came alive for the first time when he was messing around with Frank's team after Helen got him to swipe some plutonium for her. 
Charlie respects Frank and Frank begrudgingly sees something in Charlie whether he wants to admit it or not. That's why it's impossible for them to get along being on opposite sides of the same battle. They antagonize each other, but that will probably be what ultimately makes them work well together.
Whatever was on the notes Charlie found at the site of the experiment to prove the implosion method were of great interest to him. How long will he be able to work on a project that he doesn't believe in?
I think Frank had more confidence in the government than he should have, and didn't believe the worst would happen to Sid by selling him out to save his group. Sid really had no other intentions but to save his daughter using his own inventions, but the government didn't care. 
It was painful to see Sid struggle with the questions being asked of him without understanding why they were being asked. Asking about Frank's leave of absence meant something, but what? Whatever it was, Sid must have decided to turn on Frank like he was thrown under the bus when he broke out of his holding area. 
That moment when Sid realized what happened to him was so difficult to watch, but not as difficult as what happened just before the credits rolled. It was impossible to blame Frank, Sid or the soldier, but it was ironic that he met with the very soldier that inspired Frank to send him into action and was shot by someone as keen to see it as Sid was to steer clear of it.
All the evil in the world was contained inside that box of oranges, because what they would do to get their hands on it brought it out in everyone. Frank said the experiment proving the implosion method didn't work because he got distracted. That's all Sid was in the end, a distraction to achieving their goal.
Someone noted that they weren't interested in the familial side to creating the bomb, but the pressure on the scientists to deal with their work while they kept their families in the dark, and the family members trying to remain supportive of something they couldn't understand because they weren't allowed to is as important as what was created.
Imagine what will happen to the family members when the bomb is dropped, when they realize the enormity of what they were unwittingly involved in by standing at the side of their loved ones. In the end, dropping the bomb did stop a war, but it was also utterly devastating. Here, we're learning about the desolation and isolation that came before the ultimate destruction caused by dropping the bomb. 
If you missed the first episode, you can catch up when you watch Manhattan online via TV Fanatic. Hit the comments. Do you think the team will learn what happened to Sid? Will it affect their work and how they interact with Frank? How will Frank cope knowing what happened to Sid, and what was the government trying to discover about Frank by questioning Sid?
Were you shocked at what happened to Sid?
Carissa Pavlica is the managing editor and a staff writer and critic for TV Fanatic. She's a member of the Critic's Choice Association, enjoys mentoring writers, conversing with cats, and passionately discussing the nuances of television and film with anyone who will listen. Follow her on Twitter and email her here at TV Fanatic.