While Masters of Sex season 1 focused mainly on the uncomfortable issue of talking about human sexuality back in the 50s, the issue of racism has largely been introduced in season 2.
Masters of Sex Season 2 Episode 5 marked Bill starting his job at an all-African American hospital.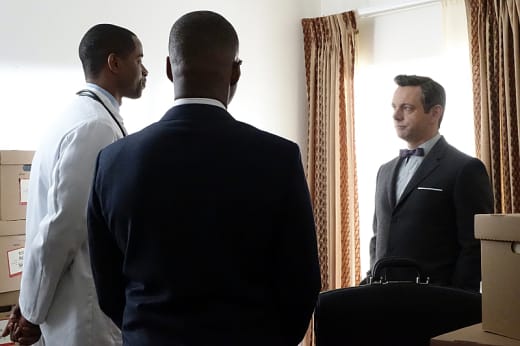 One of the things Bill initially made sure of at the end of Masters of Sex Season 2 Episode 4 was that Virginia would be welcomed to the hospital as his research assistant.
While this is the position Virginia has wanted all along, she has some reservations especially with Bill's unpredictable employment status. This is now his third hospital in a year and Libby wasn't wrong to convey some worry about all of the drama.
He's not just rolling downhill Ginny, I mean he's picking up speed.

Libby
I actually think that Libby has been giving a little bit of a bad rep concerning Coral. The whole lice incident really didn't have anything to do with the color of her skin but the fact that Coral is the only other person aside from Libby who is around the baby. I don't think Bill has held that kid once!
It was suggested that perhaps Bill brought the lice home from the hotel he's been "doing his research" at with Virginia. While it's a good theory, if Bill had head lice he would know. Trust me, lice went around the 4th grade and it is not an experience you don't realize is happening!
So bottom line, I understand Coral was upset but Libby is a paranoid new mother. Maybe she handled it in a bad way and should've said "Coral I'm making everyone who has been in contact with the baby use the shampoo, regardless of race, ethnicity, religion, whatever." I don't think it really matters though with that boyfriend in her ear.
Coral really slid her opinion in when Libby confronted her. The separate bed comment may have seemed innocent on the surface but it was definitely a little slap in the face about Libby and Bill's marriage. And sadly her observation was not off!
Bill didn't fair too well at his new hospital in his first few days. After the awkward conversation that included telling Virginia that DePaul knew about their affair, Virginia needed to make sure that leaving maternity meant she was going to have some stability in her new job. 
I'm glad that despite the fight she got into with DePaul that she still showed up to take DePaul to her appointment. Virginia is loyal to DePaul whether she believes it or not. And truthfully, it's not really DePaul's business what is happening outside the office if it doesn't affect Virginia's work. But I do understand the whole trust issue. There are two sides to the argument.
Things at the new hospital are going to take some adjusting and I enjoyed Charles' speech.
We don't look the same but we are the same. We are not men who wait. You need to make a case for yourself, you need to call every patient you ever had and say this is where you need to be with me, at this hospital. That's how you move your practice forward. That's how i move this hospital forward. That's how we move history forward.

Charles [to Bill]
However, I was shocked to see it was him taking down the signs! Perhaps he is selfish in his motive with having Bill as an employee?
Do you think things will improve for Virginia and Bill at the new hospital?