Erich Blunt really did it, it seems.
I was hoping that  we'd find out on Murder in the First Season 1 Episode 9 that Blunt was just sticking his acquittal in Hildy and Terry's faces. Instead, it appears he did get away with killing Cindy Strauss. I hoped the show was telling the tale of police overreach and wrongly targeting a high profile suspect. That wasn't to be.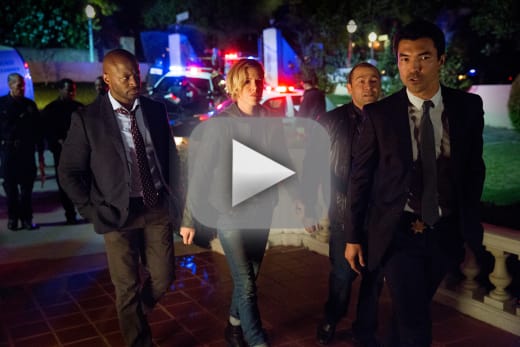 Or, is it? I'm not sure, but there's definitely something weird going on between Blunt and Bill Wilkerson. What are they "in" together? And what did Wilkerson do to earn the watch that Erich sent him? I'm not sure, but maybe Wilkerson actually killed Cindy for both of them....
Regardless of what really happened, Erich was acquitted of killing Cindy. Hildy and Terry don't believe in coincidences and decided that Erich shouldn't be allowed to live out his life in freedom, so they went after tying him to his father's death. Terry's believed for a while that Chris Walton was wrongly imprisoned and promised to clear his name.
Terry fulfilled his promise, but it wasn't Blunt who pulled the trigger. I have a difficult time believing that the seemingly loving James Harbach held his gun to the young boys' heads and made them look at the dead body, but I guess that's what happened. It was believable that Harbach would kill Nyers that aspect of the case rang false.
The only real clue that Terry and Hildy have to go on to tie Blunt to the case is the money. Where did Harbach get the money to set up Nyers? Erich Blunt would be a reasonable guess. If they can tie the money back to Blunt, they could get him for murder. Would it stick this time? Coincidence could work against Blunt.
At the same time, I wouldn't be surprised if Blunt got himself out of it again. His performance on the Larry King Show was impressive. He came across as a sympathetic victim of the police department and prosecutors. If he could pull that off during an interview, he could feign grief over his grandfather's actions.
We'll have to see how it all plays out in next week's season finale. Even if Blunt gets away with the murders, perhaps he'll lose everything now that Ivana has partnered up with his nemesis, Jeremy Leonard. In some ways, a broke and disgraced Blunt would be a bigger punishment than prison.
There are lots of loose ends to be tied up next week.
Will Erich Blunt end the season behind bars?
Carla Day is a staff writer for TV Fanatic. Follow her on Twitter and on Google+.