One Tree Hill Rewind: Every Night Is Another Story
Leigh Raines at .
Have you ever noticed how much more interesting a rivalry gets when the two sides are forced to spend time together? 
Such was the case in One Tree Hill Season 1 Episode 6 when Lucas and Nathan get in trouble and subsequently sort of kidnapped.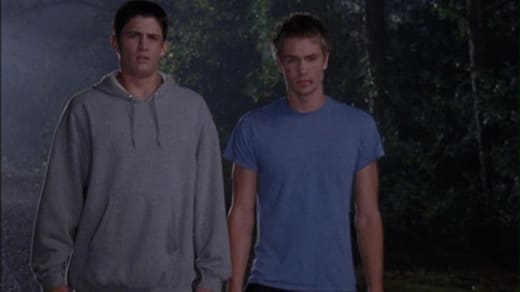 Whitey is so over the Nathan and Lucas feud, especially when it interferes with his coaching. Whitey could barely tolerate Dan Scott, you think he was gonna want to deal with his 2 sons having drama?
Yeah, right.
After a game where the Scotts spent more time throwing insults than 3 pointers, Whitey thought he'd teach them a lesson. Get off the bus, find a way the 30 miles home, no phones or wallets. Boom.
This episode actually reminded me of a lighter version of Friday Night Lights Season 1 Episode 3 when Coach Taylor has the team do wind sprints to reinforce that they're a team. This is when they're all screaming "Clear Eyes, Full Hearts, Can't Lose" in the rain. 
But back to Tree Hill.
I loved this episode. It forced the core 5 characters to come together. Nate and Luke realized that they weren't each other's biggest problem when the rival hick-town team pulled up and demanded Nate get in the car with a fake gun.
Lucas didn't have to get in the car since Nate didn't take his advice, but that's who Lucas is. That's his character.
Lucas: So this Haley thing... you know, for some reason, she feels like you're not full of crap. Don't take advantage of that.
Nathan: I'm not going to.
Lucas:I know you're not. Because if you do, you're going to live to regret it.
Nathan: Bring it on. Hey, listen. Look, man, you didn't have to get in that car when those guys grabbed me. Especially after you warned me not to.
Lucas: Right, whatever. You know the way I see it, I mean, if they would've taken you out, who the hell else am I gonna have to fight with, right?
Nathan: Same person I have.
I think this was the first episode where Nate and Haley truly admitted that they might be interested in each other. I love how Haley's no nonsense attitude matched Peyton's perfectly. She was never scared of the popular girls and that is just one reason I loved Haley James.
Peyton and Haley bonded over Nathan and Lucas while Brooke was being classic Brooke, passed out in the backseat after coaxing some painkillers from that dopey nurse. She dubbed Haley "Brooke" and the other two girls were actually having fun.
Until Brooke commented that they were kidding if they thought their new friendship would extend into the next day back at school. And then they found the boys. Five people full of teenage angst and sexual tension in one small VW bug? No bueno.
Dan was also around at the Small Business League dinner being his normal jackass self. His attitude towards Karen, Keith, and even Deb just slowly tacked onto his list of poor behavior and transgressions.
So what did you think of this episode?
Did you like Nathan and Lucas better as rivals or friends?
NOTE: Remember to visit our One Tree Hill quotes section to relive the best one-liners!