Outlander Review: The Great Escape
Jim Halterman at . Updated at .
On Outlander Season 1 Episode 4 ("The Gathering"), the relationship we're focused primarily on is that of Claire and... wait for it... Dougal?!?
What we know so far is that Dougal MacKenzie is a suspicious soul, which makes sense given the time and the threats that lurk outside the clan.
These elements serve as fuel to why he's been wary of our heroine from the outset of her journey. This episode really shows one of the strengths of the series in that it subtly and effectively, layers this relationship via unpredictable circumstances that arise throughout.
So, backing up, the opening moments might make you think that Claire is getting more acclimated to the 18th century, as she's seen frolicking with children, seemingly without a care in the world. However, how could I sell her short: her voiceover quickly reveals that she's seeking escape routes in the woods for her imminent departure. But the burning question so far is…
... where is Jamie?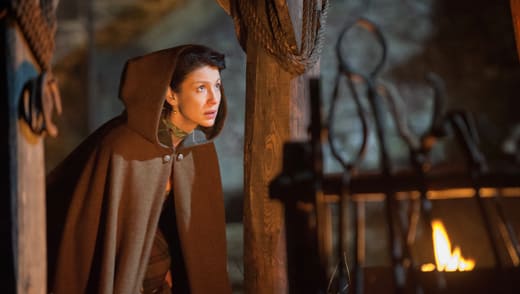 Everyone is abuzz about The Gathering. It's the time of year of celebration where the MacKenzie clan gets together and takes a break from the war. It will be a busy time, so Claire is already thinking it will be a good time to disappear.
Ya gotta love her shadows, Murtagh and Anghus. For the most part, they're a couple of harmless boobs - but they're kind of loveable just the same. Their growing exasperation with Claire is charming more than threatening. And when Claire tries to distract them with a buxom woman, their reaction might be predictable, yet it doesn't mean it's any less amusing.
Before we dive too much into Dougal, we see one of my other favorite relationships in the series: Claire and her kinda-sorta gal pal Geillis. It's a somewhat tenuous friendship since we can surmise that Claire naturally yearns to connect with someone and Geilliss is making herself very available by popping up everywhere.
But is it because they're kindred spirits or is she, like a few others, just keeping an eye on Claire? Maybe both! But here she serves as a way for Claire to be reminded of Frank and her past life that she desperately wants to return to.
Sometimes you find yourself on a path you never expected. Doesn't mean it can't lead you to a bonne place.

Geilliss
The Gathering, if you haven't, um, gathered, is the time of celebration, but also the time where men pledge their allegiance to the MacKenzies and. I'm sorry, but...
WHERE IS JAIME?!?
We still haven't seen the studly ginger, yet we're distracted by the sight of Diana Gabaldon (who wrote the book series) as she talks to Mrs. Fitz at the start of the ceremony and don't blink or you'll also miss Ron Moore (who created this fine series…and looks damn good in a kilt).
Fun little inside stuff, huh?
The Gathering begins and it's almost a touching moment when Dougal starts the event by pledging his allegiance to Colum and the family MacKenzie. We know the brothers have some conflict between them mostly because Colum is the Laird and Dougal is not. But this display of respect sets the tone for the night and the fact that Dougal finishes and quickly downs some booze reveals to us that this was a harder thing for him to do than we might realize.
Speaking of alcohol, Claire gets Anghus to drink some wine from her glass, which we know she's laced with a sleep concoction to knock him out for a long nap so she can escape. But she keeps getting interrupted.
First, Claire bumps into Laoghaire, who asks for a love potion. We know it's for Jamie, which only means that Jamie is not responding as she would like and maybe we have hope that his heart is elsewhere.
She gives Laoghaire some horse dung and tells her to spread it across his threshold, stand outside and (in a nod to The Wizard Of Oz, which Claire would've seen back in her present time) click your heels three times and say 'There's no place like love.' Cute reminder of the time where Mistress Beauchamp came from, don't ya think?
Claire is on the move to escape when she quickly comes upon some men in the halls. Of course, she is accosted by the three horny clansmen and is saved by none other than Dougal MacKenzie. She is thankful but, seeing how drunk he is, wants to get away but he stops her from going.
But first he wants to touch her face and (gasp) kiss her!
I'm sorry, Sam Heughan is the hottie of the men but Graham McTavish, if you haven't noticed, ain't so bad... if you like a slightly more mature man. However, this moment with Claire shows vulnerability in him as we know he's hurting a little from the vow to his brother.
But he then notices Claire's bag and before he can do anything else, she decides to knock him out with a chair because, well, desperate times call for hitting Dougal over the head with a chair! Atta girl, Claire!
She is on the move again and leaving, aware there are people about and, of course, guards. She reaches the stable and trips over... JAMIE! He knows what she's doing but he tells her that Colum has extra guards on patrol and warns her if she's caught, she won't be a guest anymore but a true prisoner.
Jamie wants to take her back to the Gathering but she's concerned about walloping Dougal. Jamie predicts he was so drunk he either won't remember or he'll be too embarrassed to bring it up.
As Jamie is taking Claire back, he's grabbed and told he is going to the Gathering and, if you hadn't pieced it together, you now know why Jamie has been absent for so much of the episode: He doesn't want to publicly devote himself to the MacKenzies.
Shirtless alert! Jamie changes into more proper clothing for his moment in front of Colum. He's not happy about it but he knows it must be done. Indeed, when Jamie enters, the room grows tense and quiet. Even Dougal, now awake, is here.
The point here is if Jamie devotes himself to Colum and the family then he could become Laird and that would not sit well with Dougal. That said, Jamie cannot refuse or else he could be beaten to death. Claire soon realizes she's to blame for him being here.
Jamie steps in front of Colum and says he will give him no official vow, but he essentially does dedicate himself with the family. Colum accepts this, gives him the shared drink and all is right in the world. Everyone applauds and it's all good.
'I give you my obedience as kinsman and as Laird and I hold myself bound to your worth so long as my feet rest on the lands of the clan MacKenzie.'

Jamie
The next day and the boar hunt is about to happen. Claire is along for the hunt because of impending injuries and, sure enough, one of the men is injured in his leg due to the boar. This one isn't terrible but the next one is.
A scream causes Claire to head through the woods on her own and when she comes face to face with a boar, she's saved by... Dougal! But before a conversation can take place, she must tend to Geordie, who is injured and, she realizes, his injuries are so bad that he cannot be saved.
(One moment to take my hat off to the production crew for the graphic and realistic injuries we see in the show! Bravo!)
Geordie's death, though seemingly a minor thing, is the impetus for Claire and Dougal to have a different kind of moment, as he shows a tenderness in holding the man while Claire eases him into death with her asking him questions that will calm and relax him until his eyes close for good. It's a sign of respect.
Back at the Castle and a game something akin to field hockey (shinty, I'm told via a follower on Twitter! Thanks @M_MQue!) is going on and Dougal joins in and it quickly becomes a battle of strength between Dougal and Jamie.
Dougal: I taught you this game, Lad.
Jamie: That you did.
The game progresses and even though Dougal plays rough and knocks Jamie to the ground a few times, Jamie is not to be deterred and ends up taking the older man. Take that, Dougal!
Claire is back in her medicine dungeon when Dougal shows up.
I wasn't ready to give up but I needed time to come up with another plan.

Claire
Dougal talks to her about how she's seen many men die. He compliments her job and thanks her for taking care of Jordy in his final moments on this Earth. Is he going to bring up what happened the other night? No, so we have a ray of hope that Claire is in a good place...
... that is, until Dougal says she's going on a trip starting tomorrow. We're told that they're going to be traveling to the various villages of MacKenzie land to collect rents and taxes. He wants her to go and they leave the next morning.
I think it would be wise to take a healer along, especially one that does well under strain and there's a lot of that on the road.

Dougal
So, while Claire is getting out of her dungeon, she's still a prisoner of sorts - and we're left at the end of the episode wondering what Dougal has in store for our Sassenach.
I had no idea where this journey would lead me, what opportunity might present itself. I could only hope it would bring me closer to the standing stones of Craigh na Dun. If so, I was determined to reach them, knowing this time I must not fail.

Claire
Much to look forward to next week when our gang hits the road. Will we see Captain Jack Randall, who was noticeably absent this week?
Outlander airs Saturdays at 9pm on Starz.
Jim Halterman is the West Coast Editor of TV Fanatic and the owner of JimHalterman.com. Follow him on Twitter.