The fire at the beginning of Rizzoli & Isles Season 5 Episode 10 was frightening in its intensity, but I couldn't help but wonder how the arsonist didn't notice the kids' rooms as he poured the accelerant all over the hallway.
Then I realized that ticked off biker gang members hell bent on murder probably don't care much about who ends up as collateral damage.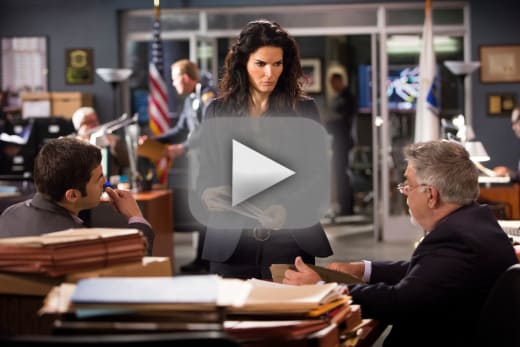 Speaking of damage, that blaze put Rick Sullivan in prison for a crime he didn't commit, his wife and daughter were killed and his son swore never to speak to him again. That all changed because Vince Korsak was a decent guy.
Korsak had no reason to open up that cold case. He and Rick seemed more acquaintances than friends. But true to his word Vince not only looked into it but got his friends to help do the job right. 
I really enjoyed his interaction with Maura. We don't usually get to see these two going over the evidence one on one and the look on Korsak's face as he realized Maura was about to list all 39 chemicals on her list was funny.
This is usually when Jane says get to the point before she's overcome with the urge to strangle me with her bare hands.

Maura
Even Frankie didn't hesitate to come in on a Sunday to help out, partly because that's what friends do…and partly because these detectives love their jobs. 
Perhaps that's why it was so stressful for Jane to be stuck at home (or Maura's home) on the sofa being pampered while not knowing when she'd be allowed to return to work. 
I never even suspected that Angela was hiding her letter. I don't know how long she thought she could hide such a thing but I understand the sentiment. Any parent would worry over their grown child when they have such a dangerous job. 
But no one, not even Angela could deny how much Jane loves what she does. Her entire face lit up with joy when she read that she'd be able to go back to work in two days. In their own unique way, mother and daughter make up in this Rizzoli & Isles quote… 
Angela: You could always take care of yourself, Jane. Go ahead, go knock 'em dead.
Jane: I'm a homicide detective, Ma. They're already dead.
There was one other small moment in this episode, where Frankie acknowledged that he was sitting at Frost's desk. As in real life, they are all still mourning the loss of their friend and it's nice to see that that's not forgotten. 
What did you think TV Fanatics, did Jane look like a librarian or a flight attendant?
C. Orlando is a TV Fanatic Staff Writer. Follow her on Twitter.