There was a lot of sadness in Rizzoli & Isles Season 5 Episode 9 - but there was also hope as Jane's miscarriage pulled the family together.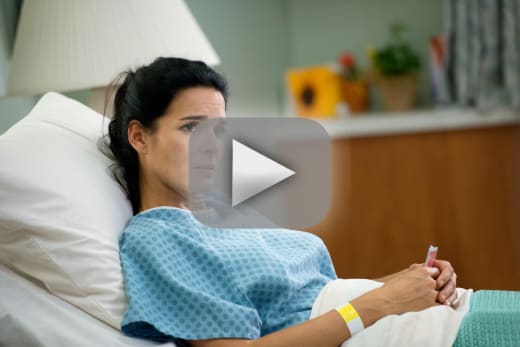 I hate that they decided to end Jane's pregnancy story line, yet at least they did it well. The best moment was Angela sharing that she had a miscarriage the year before she had Jane and how difficult that was. 
I couldn't understand how I could have such a sense of loss for something that I never really had.

Angela
Yet Jane didn't seem quite ready to talk about what she'd lost, which I suppose is normal, especially for someone like Jane. 
Just as Maura was there for all of the joyous moments in this pregnancy, she was also there for the sadness. Not even a dead body could pry her away from her best friend.
That person isn't going to be any less dead if I wait just for a little bit.

Maura
I also liked Frankie's visit. He was incredibly sweet but also as eager Jane to talk about their newest case, neither of them comfortable with the emotions of the moment. 
Fran Clarke's life and death were incredibly sad. Her step-father may have been the one who actually took her life but that didn't mean he was wrong when he said that there didn't seem to be one person who missed her. Her life was so closed off that no one noticed when she was gone. Even those who did, failed to do anything about it. 
Both her work partner and her gardner found her dead but left her in her basement…for over four years!
Although Bill from work was a bit of a jerk, Joseph, her gardner actually seemed to like her. Unfortunately that didn't compel him to tell anyone she was dead. Instead he accessed her computer to give himself a $25 raise and moved in over her garage. As Korsak pointed out in this Rizzoli & Isles quote…
Maybe he didn't kill her but not telling anybody she was dead probably disqualifies him for the heck of a good guy award.

Korsak
Maura was in true form as she explained to Korsak how the Egyptians removed the brain of the dead using a wire hook through the nasal cavity. I could have lived without knowing that. And the maggot milkshake was an ingenious way to extract the poison that had killed Fran but remind me never to have a smoothie at Maura's. 
Finally there's Tasha who was a bit like the love child of Jane and Maura. She's tough and sarcastic like Jane but scientifically smart like Maura. Their argument over the stuffed bear panda was priceless. I was wondering if Jane was going to become her foster parent but the nurse made more sense.
I felt for Jane at the end, torn between wanting some quiet time to herself yet seeing the love of her friends and family who cared so much about her. Of course once you added in the pizza with her favorite topping there was really no choice at all.
So what do you think, TV Fanatics, would you like to see more of Tasha or is this the end of her story?
C. Orlando is a TV Fanatic Staff Writer. Follow her on Twitter.