This week's installment was jam-packed.
Some events had lasting consequences, others we're still wondering about, but it all helped Royal Pains Season 6 Episode 10 to fly by.
From Russell's quest to regain Paige's trust, to Divya's attempts to strengthen and repair her relationships, it's becoming clear how the back end of Royal Pains Season 6 could shake out.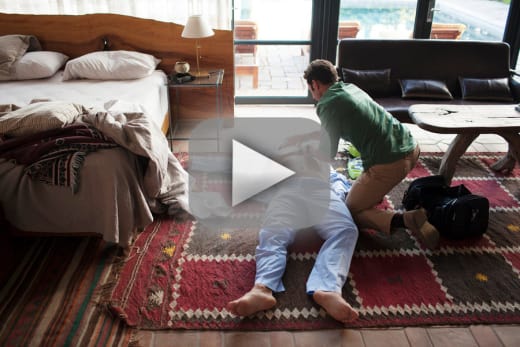 Let's start with what was probably the funniest part of the episode, which occurred as Russell tried to return all his questionably acquired treasures to their rightful owners. In the end, it led HankMed to their latest patient, who had "Airport Malaria." As if I needed another reason to be wary of the airport!
All that aside, the concept of getting something back trust was a recurring theme in this installment.
Others desperate to get something back? Jeremiah and Divya. Jeremiah, his relationship with Vivianna, and Divya her relationship with Jeremiah. They both sent counsel to help aid Vivianna, though it was Divya's who made it there in time to get Vivianna the help she needed at her immigration hearing.
But then that bombshell dropped. You know the one. The one where Vivianna hadn't been completely honest with Jeremiah and had been accepted to physical therapy school in Tulsa. I had to say I was a little disappointed. But you won't believe what my next thought was:
"So does this mean Jeremiah and Divya could technically be back on?"
More than that, I am pretty hurt for Jeremiah. He seemed to handle it well, but I wonder if he won't realize that Divya was the one who hired the attorney to help Vivianna and have a changed heart when she returns home. One can hope!
Yeah, I ship them in a ridiculous way. I don't know why. You can tell they really care about each other, even if they aren't the best at showing it. And when they do, it often doesn't play well. I have hope, though.
Want to know who I don't have any hope for? Ray. He really blew it almost getting Paige shot. Not that he could have known someone was about to shoot him, but his entanglements have always been a problem. Now it seems like it could put everything HankMed has in jeopardy.
And when HankMed needs her most, it looks like Divya may be stuck in Argentina for longer than she planned. I didn't think Lorena was a snake, but I have a feeling Divya will be more warty the next time someone asks her to come visit in their home country. If she ever gets out of Argentina, that is.
But even after all this, I still have to ask, have you ever heard of "Airport Malaria?"
At the same time, Hank accompanied Boris to Argentina to test someone for the genetic markers that plague Boris and his disease. Will it lead to a cure?
C. Charles is a TV Fanatic Staff Writer. Follow her on Twitter.