What an amazing hour!
So many things that I have been waiting for happened in Switched at Birth Season 3 Episode 19. People got sick of Daphne and told her off, Bay found out about her health scare and made plans with Emmett, Melody saved Travis' life and Kathryn and Regina solidified their friendship with a brilliant little show at Kathryn's reading of "Batter Up."
It might not sound all that exciting in one paragraph, but it really was so much fun to watch. Let's break it down!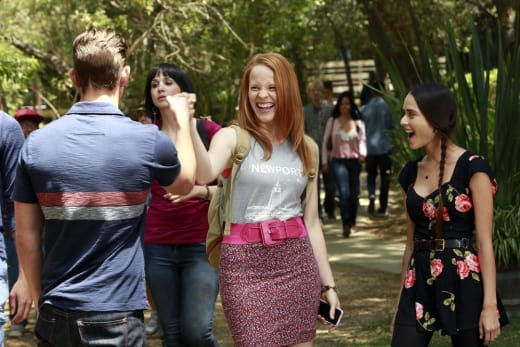 No Daphne, the world does not revolve around you. Every move Daphne makes these days is wrong. She grabs on to Senior Ditch Day with all her might because she thinks she'll get a little time to enhance her bad-girl skills. It turns out she's not as badass as she thought.
Calling Nacho to bring beer to the park blew up in her face when he brought a girl with him. It's impossible to feel sorry for her being turned down by, essentially, a thug when she used him way before the thought entered his mind to do the same. Making her even more unappealing, Daphne decided to try to make out with Travis on the Ferris Wheel with no regard for his girlfriend Mary Beth (who, thankfully, wasn't present).
You punishing MY mother for MY father dying has nothing to do with me?

Bay
When Bay lit into Daphne about Travis, it didn't escape her that her sister was doing it all because of Regina. Daphne hasn't paid a lick of attention to Bay to notice she's been out of sorts so had no idea about the possibility that Bay could have inherited what really killed her father.
The emphasis on MY mother and MY father was well played. It's about time Bay took ownership of the family she belongs to, from both sides. She rarely acknowledges that she was a part of the switch, but Daphne seems to take every opportunity to play the woe-is-me card about it. 
The friendship between Kathryn and Regina has blossomed and it's fabulous. Kathryn has really stepped up for Regina since Angelo died and it's really beautiful to see. She has made many efforts to include Regina in all family related endeavors, and asking her along on her book reading trip to New York was just what they both needed.
The two women are both smokin' hot and when Kathryn ran into a guy she knew back in the day and after whom she wrote one of the sexual encounters in the book, Regina took Kathryn's cue to play lovers to the next level with a sexy kiss to drive the guy away. 
Of course the guy was even more intrigued, but who could blame him? The duo became internet fodder and that's exactly what will propel Kathryn's book up the charts. John's reaction was priceless. He was happy and laughing at the thought the three of them were now involved in a tryst that one social media person called makin' jumbalaya. 
That didn't mean that it was all fun. Kathryn and Regina took a moment to talk about Daphne and what's been going on.
It's just easier for Daphne to blame you than to deal with how random and cruel it was.

Kathryn
Part of what Kathryn said is true. The other part is the sense of entitlement that Daphne has assumed since she learned she was switched at birth. Instead of seeing the bright side of her life as it is now, she tends to dwell on the "what ifs" and rarely does that come with a reminder that it was possible she might have never learned of her two families. All in all, Bay and Daphne have had an incredible experience from such a traumatic event. 
Bay is in the clear for now, but there is still one hurdle she'll have to jump. Since Bay is 18 now, she decided to go through the medical scare about the aneurysm on her own. She had one little misstep when fake Mandy tried to hit on Emmett, but all in all she handled it really well. Now that she's in the clear, she'll still have to come clean about it for the sake of her baby sister. 
Bay also made the decision to follow Emmett to USC Film School so he can pursue his dream of being a filmmaker. She is still in the dark about what's next in her life, but being in a creative environment certainly can't hurt someone with her talent. 
It's a strange feeling to be proud of a girl in a TV show, but I'm proud of Bay. She has grown into a lovely young woman who rarely takes what she's been given for granted, even when life throws her curveballs.
Melody pulled off the miracle that will keep Travis on the right path. Somehow I think all the kids will end up staying in Kansas City for college, but what she did for Travis was a shrewd business move and a great act of kindness and caring for the boy she's come to love as a son. 
When Travis wasn't accepted to Gallaudet, he thought his chances at a good job were over. I noted in the Switched at Birth Season 3 Episode 18 review that he really needed to have more faith in Melody. She has been keeping her eye on him and knew he tried to quit Carlton. One day off and she was able to pull everything together and ensure his future remains bright.
Regina choosing to use some of the money from Angelo's life insurance policy to help her old friend with the special endeavor will mean keeping him alive and helping children for a long time through his legacy.
As a side note, it was really nice to see the little group they've formed through some stressful circumstances spend time together on Ditch Day. Natalie and Sharee came to us against the odds, and that's how some of the strongest bonds of friendship are born. Hopefully, Sharee will be able to get through to Daphne before it's too late.
It looks like Daphne's actions are going to lurch out of the shadows and bite her in the ass. She could be in real trouble or her mother could step in with Wes and make it go away. But is that the right thing for Daphne, or should she be forced to face the consequences of her actions? She has to learn that lashing out isn't the answer to her problems, because it's been her go-to behavior for seasons now.
What did you think? Did you ever imagine that kiss between Regina and Kathryn from the previews would be for real? Hit the comments and talk about all of it. I can't wait to hear from you! And remember, you can watch Switched at Birth online via TV Fanatic any time you want.
What was your favorite moment of "You Will Not Escape"?
Carissa Pavlica is the managing editor and a staff writer for TV Fanatic. She's a member of the Broadcast Television Journalists Association (BTJA), enjoys mentoring writers, wine, and passionately discussing the nuances of television. Follow her on Twitter and email her here at TV Fanatic.