One of the biggest mysteries in television history has apparently been solved.
How does 2 Broke Girls remain on the air? No. That question may never be answered.
But Martha P. Nochimson published a lengthy story today on Vox in which she profiles The Sopranos creator David Chase, who has remained mum about Tony Soprano's fate ever since his show's controversial finale.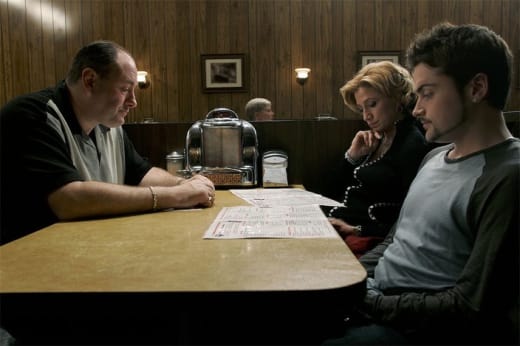 Nochimson says she asked Chase point blank whether Tony is dead (i.e. killed in that infamous diner scene), a question that initially invoked anger from the creator, but eventually led to the following response:
No, he isn't.
That's all Chase had to say on the subject, as he likely now hopes fans will stop asking him about the ending.
What do you think of Chase's reply? Or the fact that Tony Soprano made it out of the diner alive? Does this change your view on the Sopranos finale or on the series in general?
UPDATE:  A rep for Chase has now released the following statement:
"A journalist for Vox misconstrued what David Chase said in their interview. To simply quote David as saying, 'Tony Soprano is not dead,' is inaccurate. There is a much larger context for that statement and as such, it is not true."
Matt Richenthal is the Editor in Chief of TV Fanatic. Follow him on Twitter and on Google+.