Tonight's results were exactly as they should have been.
Dancing with the Stars Season 19 episode 2 offered fun performances, behind the scenes footage and lots of happy tears.
Smokey Robinson and Aloe Black performed a duet of "My Girl," with Mark and Witney offering a beautiful dance alongside it.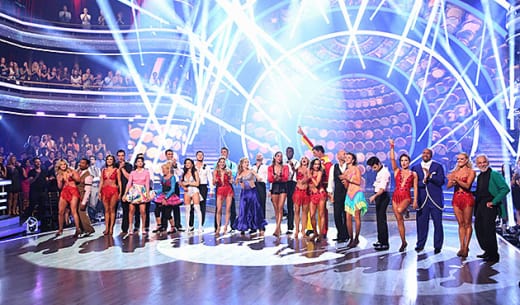 The judges announced their favorite dance from last night, and we got to see Alfonso's fantastic jive again. I think it was even better the second time around!
The episode also took the time to introduce our three new pros, body oil included. We got quick introductions before they were each featured in an entertaining dance that showed an awful lot of skin.
And for audience interaction, we voted during a commercial break on which pro we wanted to embarrass the most by seeing their original audition video. Who did TV Fanatic vote for? Derek Hough, of course! (Come on, were you surprised?) The video was adorable, as Derek seemed both embarrassed and flattered at watching the footage.
Okay, okay - but what's really important here are the results. The bottom two were not surprising. They were Lolo and Keo, and Betsey and Tony.
Betsey's mishap last night cost her scores - but although she was at the bottom of the leader board, her fans pulled her through. Betsey will dance (and probably do a cartwheel or two) again next week.
Rightfully, LOLO JONES was sent home. Not only was her dance a flop, but her attitude was way too negative. She simply wasn't likeable, and that cost her some votes. I feel bad for her partner, though. Keo has only barely shown what he can do. I wish we could have seen more of him!
What do you think? Did the right person go home? Leave us a comment and let us know your thoughts!
And by the way, it looks like all 7 of our favorites are still around! Check them out:
Ashley Bissette Sumerel was a staff writer for TV Fanatic. She retired in September 2017. Follow her on Twitter and on Google+.