Chad returned with a lot more Dimera in him, EJ and Sami reunited, Hope filed for divorce from Bo, and JJ's sexy selfie cause problems on this week's Days of Our Lives.
TV Fanatic Christine Orlando was joined by Vanessa and Kim from MyHourglass a Days of Our Lives fan forum to debate a Kate and Roman reunion, whether divorce was the right decision and what were their favorite scenes of the week.
------------------------------------------------------
Would you like to see Kate and Roman get back together?
Vanessa:  No, because I think if they get back together then they'll end up on the back burner and I like Kate too much for that to happen and Roman doesn't really matter to me
Kim:  Not really, no. She needs someone more exciting, cuter and a little dangerous. I think Roman is too much of a good-guy for her....give her someone with an edge!
Christine:  Yes! I'd love to see Roman have a storyline and I enjoyed he and Kate the first time around. If done well, it could push the boundaries for both of them.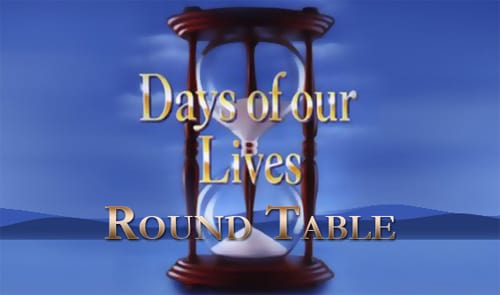 What do you think of the new Chad Dimera?
Vanessa:  I'm a sucker for Chad, I always have been. Billy Flynn is doing very good job as the new Chad. It's still very weird getting adjusted to him (Chad) being on. I need vulnerable Chad though that is really my only complaint.
Kim:  At the risk of repeating myself, "meh."
Christine:  I'm enjoying him. He's definitely more Dimera this time around which can be fun, although I would like to see him truly reconcile with EJ. I always liked their brotherly dynamic. And if there's no other reason to like Chad, he actually made me interested in Jordan when they shared scenes. I didn't' think that was possible!
Is Hope doing the right thing in filing for divorce from Bo?
Vanessa:  It's sad but yes. Hope has the right to move on with her life.
Kim:  Yes. This has gone on too long, even though they are a cornerstone couple, in order for the character to have a "life" on the show, it has to happen, and Hope is one of my fave characters. LOVING HAIDEN. The actors are playing it to perfection, love the slow build and character-driven story. My favorite part thus far was the Cinderella scene!
Christine:  I grew up loving Bo and Hope and even I have to say yes, it is time. Maybe beyond time. Hope has been back burnered long enough.  By divorcing Bo, Hope can move on yet it still leaves the door open if Peter Reckell every chooses to return
Were you surprised that Paige believed JJ?
Vanessa:  I was surprised because if I had to leave my boyfriend at a party where people were drinking and I got the same picture she got, I'd have a problem believing him.
Kim:  Not at all. She is always giving people the benefit of the doubt, always looking to see the silver lining. It also gives Eve more chances to scheme more! 
Christine:  Yes, if only because I figured the show would draw out the drama more by having Daniel (who has to be involved in every story) bring along the medical evidence to prove to Paige that JJ was drugged. I figured there would be at least a week or two of angst involved, not a day. 
What scene was most disappointing?
Vanessa:  Ej and Chad meeting again. While both actors did good, their scenes give me the vibe that they are rather cousins than brothers. 
Kim:  The Eric and Nicole stuff, hands down. I was sorely disappointed that those two are constantly bickering and that he's taking the self-righteous, haughty way out. I wish he would just act on his feelings instead of trying to be all obsessively mean and hateful. I do like them; the contrast between the two souls is really appealing.
Christine:  Definitely Eric and Nicole. There scenes have become painfully boring. The fantasies aren't fun and their real scenes make me cringe. I had more fun watching Nicole and Aidan this week than I did watching her with Eric.
What was your favorite scene/story of the week?
Vanessa:  That's so easy. Abby getting grilled by Chad. It's about time someone else other than Sami, tells her off and he did it so perfectly with the way he was all nice and then he said "Do you want to talk about how you slept with my brother." That was so unbelievably perfect because she didn't expect it.
Kim:  EJAMI, hands down. The scenes on Friday when they finally reconnected....and also the scenes where she talked to him about her real feelings.  This was very good stuff.  Though I'm not an EJAMI shipper, I am enjoying the writers' way of writing these two out.  I've got lots of predictions about how this is going to go! 
Christine:  I really loved the father / daughter scenes between Roman and Sami. Having her ask him what he would have done if Marlena had asked him to reconcile after her affair with John was simply brilliant. It used a great piece of show history to make Roman empathize with his daughter and it turned out to be one of the best, most heartfelt scenes these two characters have shared in years.
C. Orlando is a TV Fanatic Staff Writer. Follow her on Twitter.