Tobias Menzies on Outlander: 5 Things to Know
Jim Halterman at . Updated at .
Hold on tight, Outlanders.
If you thought Captain Jack "Black Jack" Randall was maybe just misunderstood and wasn't really as bad as you initially believed... Outlander Season 1 Episode 6 will make it very, very clear that Randall is an evil man. Very evil.
Without spoiling what goes down, Claire will once again be alone with Randall for the first time since he tried to rape her back in Outlander Season 1 Episode 1. Think their meeting goes well?
Let's just say it's both intense and surprising and it spurns a lot of what will happen in subsequent episodes of the Starz hit.
Hats off to actor Tobias Menzies, the man behind not only Captain Randall but also Claire's husband, Frank, who she left behind in the 1940s when she time traveled back to 1743. As awful as Randall can be - and we'll see more of his back story with Jamie to cement the notion - Menzies' alter ego is gentle, kind and loves Claire with all his heart. 
In sitting down with Menzies at San Diego Comic Con, the English actor (who also appeared in period series Rome and Game of Thrones) gave me a long look into his dual roles, resulting in five things viewers should know...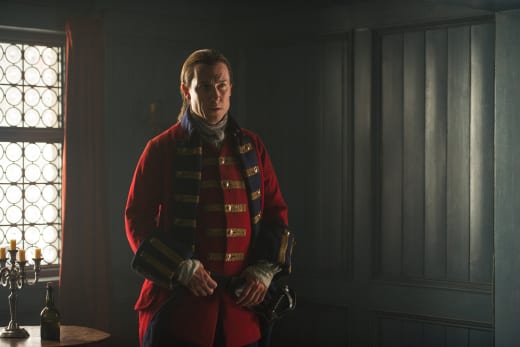 Different men, different approaches: One thing that factored in with the actor playing Frank? Time. "We had to work quickly [and] hit the ground running because we had to establish a marriage. We got separated by a war. We were trying to rebuild it. So there's that sense of their kind of piquancy of that sort of bittersweet history between the two of them."
Menzies gave props to his co-star in helping them create a relationship in a short amount of time. "I'm very lucky to be working with Caitriona," he said. "And we really got along straight away and found it quite easy to sort of build a rapport. So that was great."
Playing Jack was different in that Jack's purpose in the show is not similar at all to Frank. "What's interesting about Jack is it can be a one way street really," he explained. "When Jack comes into those scenes, he kind of drives the whole thing and so it's less of a conversation and more of a monologue."
Jack Randall is also a violent man, which we see often in the series. "It's like that character, I would argue, is a study in sadism. That's what he's interested in. He's interested in people's boundaries, their pain thresholds, what they can handle. It's like this sort of rather sickening investigation of people."
Research for both roles: Given that Menzies was pIaying two different characters, he also was playing different time periods. "Obviously, I tried to dig into the different people and who they were...the 1940s to the 1740s, their different lives, what their experiences would be. And so in a way, there's some background research."
The actor said shooting in Scotland helped when it came to the costumes and everything else in the show. "I suppose as an actor, you partly just cross your fingers and hope that the work you've done to decide who these people are and how they behave and how they hold themselves will show up in the eyes in a way. I really hope that that pays off through the show."
One thing that Menzies found in his research and in talking to show creator Ron Moore was that Frank and Jack do have some similarities.
"The first conversation I had with Ron about the project just after being cast, [Moore said] that he was also struck by the fact that these were two men both shaped by war. One by the Second World War, one by this insurgency war, the Jacobite rebellion...they obviously reacted in very different ways and have ended up in very different places."
Randall is a contradiction: Of some of the intense psychological and physical scenes, Menzies spoke happily of the challenges in the roles. "What makes me excited as an actor when I see it and manage to do it myself," the actor explained, "is when there's lots of different shades within the colors to see because that feels like it's both interesting to watch and it's true to life."
He added of Jack Randall: "Contradictions abound, and Jack is one of life's more interesting contradictions. He does have sort of personal insight, and he does get people and how they work. But then he chooses to abuse those rather than comfort them or reassure them. Diana [Gabaldon] has written a lot of strong characters but Jack is certainly one of them."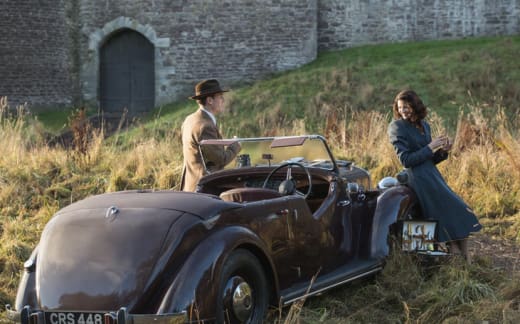 Can he shake it off?: While some actors might have a hard time shaking off the dastardly things they're doing in their work in front of the cameras, Menzies isn't having any sleepless nights. "It's loads of fun," he said of being able to act out some of the awful things that Black Jack Randall does. "It's exciting to render that stuff because these are things that you can't do in your own life, but you don't get locked up." 
You ain't seen nothing yet: For those who know the books, there's much more coming between Jack and Jamie, as well as Jack and Claire, some of which we'll see this week and more that we won't see until the latter half of season. But Menzies previewed:
"We have done the flogging and a lot of the more sort of brutal scenes between Jack and Claire [and] I feel that they're dark and suitably so and I think it's an important antidote to the more kind of romantic elements of the story. And yeah, it feels that we're not going to shy away from that, which is good."
Outlander Season 1 airs Saturdays at 9pm on Starz.
Jim Halterman is the West Coast Editor of TV Fanatic and the owner of JimHalterman.com. Follow him on Twitter.