What do a prom queen, a cellist and an HR questionnaire have in common?
They all played a role on Franklin & Bash Season 4 Episode 5.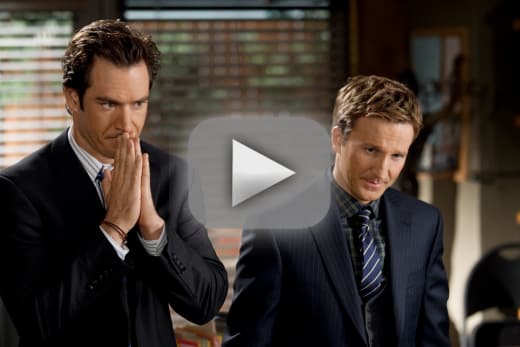 We'll start with Peter, who got a second chance to romance his high school sweetheart when her son wrote an article about voter fraud - for the prom queen election. What might sound trivial turned out to be a case that got Josh expelled, put his scholarship to Columbia in jeopardy and had the boys launching a $5 million law suit.  
Funny, I don't even remember who ended being my high school's prom queen. Do you?
But when you're in high school, everything takes on a heightened sense of importance, especially prom. Apparently the principal took it so seriously that he rigged the election to make sure that Madison, the popular girl won and Elvira (aka Beth) the outsider did not. Talk about a silly reason to lose your job and your pension but people do stupid things all the time, especially when they think they can get away with it. 
I especially loved the recreation of the dance in the courtroom. It gave Peter the chance to recreate his own memory without the need for clam chowder to cover up his excitement, although he couldn't get up to do closing arguments. Apparently Molly still has that effect on him.
Another favorite moment was Peter giving Josh advice over dinner in this Franklin & Bash quote…
You miss 100% of the shots you don't take.

Peter
Peter should know. He never asked Molly out in high school. Thankfully it's a mistake he didn't make twice.
Back at the office, Jared took Peter's advice when it came to filling out paperwork for HR about his relationship with Ellen. As if writing on official forms that their relationship was casual wasn't bad enough, he wrote an entire essay on how marriage was a dead institution. 
Swatello was hurt and it was hard to blame her but she kept telling Jared that her feelings were obvious. Ellen's a smart woman but she apparently doesn't realize that Jared is a guy…and therefore nothing is obvious when it comes to understanding women. 
Elsewhere, I enjoyed seeing Carrie Preston as the cello playing / ex-cutthroat attorney now renting space in the office. Carrie is so quirky in all of the roles she plays (The Good Wife, True Blood) that she seems like the perfect person to play off of Malcolm McDowell's Stanton Infeld.
Tell me what you think TV Fanatics. With their relationship in questions, should Jared and Ellen get serious or call it quits?
C. Orlando is a TV Fanatic Staff Writer. Follow her on Twitter.