Gotham Exclusive: David Mazouz Talks Bruce Wayne, Most Beloved Batman & More

Sean McKenna at . Comments
Ready to witness the origin stories of some of the most famous characters from Gotham?
Then prepare yourself for the likes of the Penguin, of Jim Gordon, and yes, a young Bruce Wayne.
I recently spoke on the phone with actor David Mazouz - who is playing the 12-year old Wayne - about portraying the character, filming an iconic moment in Batman mythology for the show and even his favorite version of Batman.
Read on for excerpts from the Q and A...
---------------------------------------------------------------
How exciting is it to be playing an iconic character in Bruce Wayne?
It's the role of a lifetime. Every time I think about it, I get excited. It's just a fun and interesting role to play. It's not just the fact that it's such an iconic role, he's also really interesting. It's getting to see the journey that he goes through, the stuff he starts to become obsessed with, and the different things he encounters in the first season.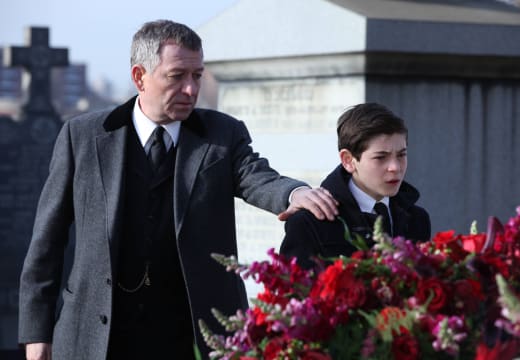 What was the auditioning process like?
I met with Bruno Heller, our brilliant creator, and the casting directors, and I had the audition. But I waited two weeks and didn't hear anything about it. And then I came in, I think I did four tests in one week. The last test they actually cut my hair, so there were whole mounds of hair on the floor. They also wanted me to come in Bruce Wayne clothes, and it was really cool. It got me in the mood to really get into the character.
When I found out I got [the part], I was in a public place, and my mom actually found out the day before I found out. She didn't want to tell me that day because it was my sister's birthday, so I thought that was cool. But the day after, my agents told me, and it was one of the best feelings of my life.
A major moment in the Batman story is the death of Bruce Wayne's parents. Can you talk about filming that scene for Gotham?
That was probably my favorite scene. A lot of people have been asking me where I draw my inspiration from, how do I scream like that and hit that kind of emotion in that scene. I think that's an actor's job, to put yourself in somebody else's shoes.
I was asked if I had anybody that died who was close to me, my grandma died, but before that, I said my goldfish. But yeah, it was just a really fun scene to shoot.
How many times did you have to do that scream?
It didn't take forever to shoot that scene, but I think I did it maybe six times, the scream. It was nothing. I scream a lot.
Do you know if by the end of Gotham Season 1 we will find out the identity of the killer?
Every episode there will be a case. And the case in the pilot episode is the murder of Bruce Wayne's parents. But I think that case will drag out throughout the season, and maybe throughout the series, but no one really knows. I don't know. It's not really solved in the pilot, and you'll see more of it throughout the show.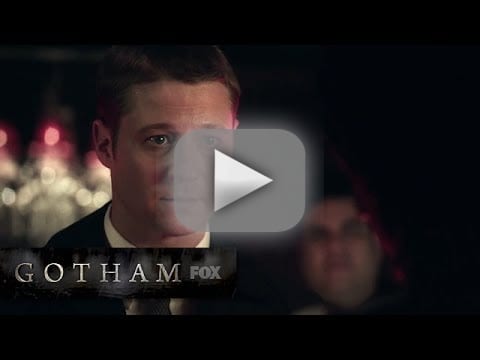 With this being a pre-Batman show, what kind of capacity will we see Bruce Wayne on Gotham?
Right, he's not Batman. The show really revolves around Jim Gordon and his work and the cases he has. Also a good deal of the show follows Penguin's rise to power. Bruce Wayne, you will see him go through different levels. He's not in it a ton, but you will see him experience different things and go through stages of the grieving process in his unique sort of way.
I'd say in the second episode he starts to create an obsession, and he is searching for any meaning into his parents' death. He just wants to find some reason behind this terrible tragedy. He has post-traumatic stress disorder and he's scared, lonely, angry at the world, and he takes some of that anger out on Alfred, played by Sean Pertwee, who we had some amazing scenes together. He's great, and I worked with him the most.
Do you have a favorite version of Batman?
I mean, I grew up with the Christian Bale ones, so that's kind of my time frame. I don't necessarily have a favorite, I like them all in their own way. I think the Christian Bale ones I draw inspiration from the most. The ones before, the Michael Keaton ones and Adam West, the Adam West especially, its more campy, it's more fun. We didn't really see that dark side until Christian Bale came along. And so he's going to be dark in Gotham for sure, so that's the approach [my] Bruce Wayne will be taking in the show.
What will viewers be most excited about when tuning into Gotham Season 1 Episode 1?
What's not to be excited about when viewing the pilot? It has everything in it. It's mysterious, scary, dark, fun, funny. You're not missing a thing. I think people will really like the different elements to it. You're signing up for everything all at once. It's great, and I think people will really enjoy the show.
Sean McKenna was a TV Fanatic Staff Writer. He retired in May of 2017. Follow him on Twitter.