How To Get Away With Murder Creator Teases Complex Characters, Sex and Murder
Jim Halterman at .
How exactly do you get away with murder?
As we'll find out with How To Get Away With Murder Season 1 Episode 1 - created by Pete Nowalk and Executive Produced by Shonda Rhimes - it all starts in world of an elite University, where professor/lawyer Annalise Keating meets a new class of students and he fun starts there with, yes, a murder.
The new show, which airs after Rhimes' other shows (Grey's Anatomy and Scandal) has all the elements that we've come to expect (and love) in a Shondaland series: relationships, sex, deception, secrets and, given the show's title, the ramifications of a murder that will drive much of the first season.
I talked to Nowalk recently about the new drama, what we can expect from this fresh crop of characters and whether this will be the kind of show to drag out answers to questions or will we get bits of satisfaction soon. Let's dive into this potentially addictive new series...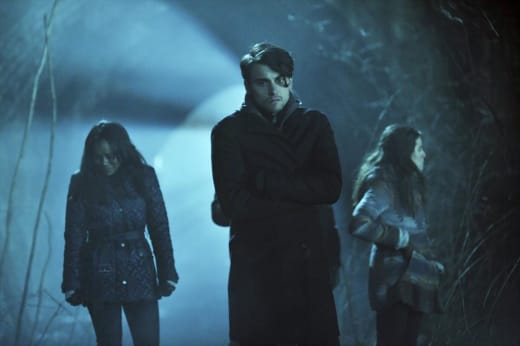 TV Fanatic: You've been shooting for a while now. What's the biggest surprise at this point for you?
Pete Nowalk: I think for right or wrong, what's most surprising is how much I've stuck to our original plan. Obviously, I sat down with the writers in the first week and told them everything I thought I knew, saying this doesn't have to be the way. We're open to new pitches and stuff. I think we've moved things along faster than I thought. If we had a great idea I was like 'let's just do that in episode four.' I really wanted to keep the story moving.
I know people are going to have a lot of questions from the pilot. So when we set out I was like let's at least raise those questions so people know and give them answers for things. In the second episode I think there's a really big question about Annalise and her life we'll find out in episode two that people will be asking from the end of the pilot.
I obviously want to get to the murder night soon and our breaking and so I'll see how much of that sticks to our original plan. But I guess we're just kind of sticking to our first instincts. That's the weird part.
TVF: So, as of now, are we getting to the murder night by midseason or will it take us to the end of the first season?
PN: We will most likely get it mid-to-late season. Obviously, that's just a timeline thing and it's still a little bit up in the air. But the end of the season is the aftermath of that.
TVF: Annalise definitely seems more manipulative than I originally expected. Is my instinct correct on that?
PN: It is a good instinct. She's a complicated character and there are many layers to her. What I hope that we can show people with the character and I really give all the credit to Viola, is nothing is as simple as you would think. I don't think, and neither does Viola, that people are simple and they do things with many motivations. So, this is a real person. We're trying to write a real character. There's not a Cruella Deville element to her. I think as the episodes go on you'll see she's very complicated and you'll see her in private moments which reveal things that make you question her public moments.
TVF: Annalise is also very sexual, as we see. She's not just the teacher guiding all these young kids.
PN: She's driven a lot by sex. I think a lot of people are. That's just one of the many interesting things to me about her personality. I like that about her. I think we'll see that more and more.
TVF: Will we get windows into Annalise's relationship with all the students? In the pilot it's primarily with Wes for obvious reasons that people will get when they watch the show.
PN: Obviously, yes. Wes and Annalise have a very central relationship that will keep playing over the first season. To me, they're two sides of a coin. I think that will be really fun to show how they both affect each other over the first season. So, that's a core, if not the main relationship that I'm interested in exploring the first season.
Yes, we're going to see her interact with all the students. We'll see how her opinions of different people change. Laurel doesn't have much interaction with her at all [in the pilot] and we're left wondering why Annalise even picked Laurel for the group. In episode two we'll find out more about that.
Obviously, they play a really big part in her life and vice versa. She plays a big part in their life. I don't know how big of a part they play in her life. She's got a lot going on, like any boss does. But, yes, she touches each of their lives in different ways.
TVF: Talk to me about the romances on the show. Jack [Falahee] told me that Connor will get a relationship early on. Do the students all have romantic lives?
PN: They all do have romantic lives. Not all of them right away, I'll say that. Connor, yes, has a romance that you'll see in the second episode. I don't want to reveal who it is or how that's going to play but this guy plays a really big part of his emotional journey through the first season. I think it makes Connor question every way he's lived up until now. You know, he's a person that can come across as one way in the pilot and I hope to unearth layers for the audience as we go. That guy that he's dating is a big part of that.
Michaela (Aja Naomi King), we know she's engaged so we'll meet her fiancé and discover a little bit about what that relationship is like. Laurel (Karla Souza), all we know in the pilot is that Frank (Charlie Weber), who was shirtless in the photo, called her. So we'll reveal what that's about in bits and pieces so perhaps she's going to have a romantic life.
TVF: How long is it before we start to get more of a sense of Liza's character, Bonnie, and Frank and their role in Annalise's world?
PN: Hopefully soon in the first episode. I mean I'm very big on drizzling that out slower than maybe we'll learn about the students. They are going to play it close to the vest, like who they are as people and stuff. They're not going to reveal all their stuff to these students. Their dynamic is very brother and sister to me so we'll have scenes between the two of them where we find out what drives Bonnie in this house. Then the same for him. Like she says 'stop screwing the students' in the pilot but what does that mean for him?
We'll also find out more about what their roles are with Annalise. She calls them her associates but what does that mean. I think we'll find out more about them. Every character plays a big role, even if they're not on screen a lot. We've always had a trajectory for the characters and the role they'll play especially in the mystery.
TVF: I like it. Probably the last question, how violent would you say the show is? Of course, there's a violent act in the pilot but how much is that a part episode after episode?
PN: I think there will be moments of violence. I think more than violence this show is a psychological thriller to me. That's something we've been discovering. That plays a lot. Annalise is five steps ahead and how does that affect how she plays with people's minds and vice versa? How are people playing with her mind? I feel like that's where our emphasis is. It's not much violence. I think these are normal people like you or I so I don't think they have naturally violent tendencies. They might just find them in a situation of violence…I think if it's story motivated we do it there but our show isn't driven by violence.
How To Get Away With Murder Season 1 airs Thursdays at 10/9c on ABC right after Scandal. 
Jim Halterman is the West Coast Editor of TV Fanatic and the owner of JimHalterman.com. Follow him on Twitter.