Last week's bombshell of an ending -- where Bill admitted his impotence -- served as the springboard for Masters of Sex Season 2 Episode 10.
It seems as if Virginia's comment about admitting that "the affair wasn't about the study anymore" has taken a backseat to finding a cure to Bill's issues.
I'm not interested in the explanation, I'm interested in the cure.

Bill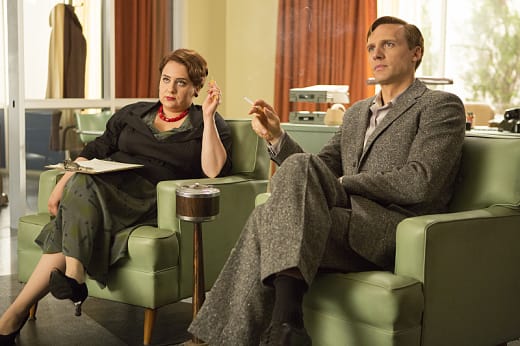 As of late, Virginia has been interested in the psychological component of their subjects. At first her psychologist seemed like a silent player, someone who wouldn't contribute anything to the show. However, I'm finding that as we see more of their sessions his rare questions are actually causing a stubborn Virginia to be more forthcoming.
Especially in this week's admission that she had been lying about her identity to seek counsel for a patient.
Of course she thought this would be the end of her sessions, but no, the doctor wasn't quite finished analyzing her yet. He dove into her relationship with Bill, which is the majority of this entire show. I found myself baffled that Virginia could be brilliant in so many ways but then sit there and honestly tell this therapist that her affair with Bill had nothing to do with his marriage and that everything was fine.
Hello denial.
Sure Libby may seem busy these days, finally having found a passion in working with Robert and CORE, but she and Bill do not have a loving happy marriage. They merely co-exist as partners; resigned to the fact that they are parents and husband and wife merely for the conveniences and the look of it to the outside world.
I think we can all agree that Bill would be a great candidate for therapy. Essie, Francis and Bill could get a family rate! To be honest, while so much of this show is well done, the scene between Bill and Francis dragged on for so long that I felt myself drifting. 
Francis has done a good thing for himself and his wife to confront his issues, but he seems to be projecting at this point. Yes Essie and Bill both drink. Does that make them alcoholics? 
There is definitely something intriguing about the fact that Bill was finally able to cure his impotence after he and Francis had it out. His face was bleeding and he sought comfort with Virginia. The gesture of him wiping the blood on her face was odd but also felt significant in a way. What does this mean? Why was this the cure for him? Was it because he had just released so much emotion?
I'm broken and you're the one, you're the only one who can fix me.

Bill [to Virginia]
I have no doubt that sex and psychology are extremely entwined. I'm delighted that Barbara and Lester have met and found some sort of interest in each other, even they only end up as friends. Virginia is onto something with her psychological studies, but she has a long way to go.
So how about Bill? Would Bill benefit from some therapy?