Nashville Spoilers: Dee Johnson on Rayna's Choice, Will's Romance and Juliette's Baby Daddy Story
Jim Halterman at .
Will it be Layna or Dayna?
If you're a Nashville Fanatic,  you know I'm talking about last season's cliffhanger where Rayna James received two marriage proposals - one from superstar Luke Wheeler and one from her past love (and father to daughter Maddie), Deacon Claybourne.
Charles Esten, who portrays Deacon, teased what could happen when we talked to him last week but Executive Producer Dee Johnson has given us more insight into that storyline, as well as many others to come in the weeks ahead.
She also previewed guest stars coming like Derek Hough and Laura Benanti as well as tonight's TWO live performances, which will be performed for both East and West Coast viewers on Nashville Season 3 Episode 1...
TV Fanatic: Where did the idea come from to do the live performances?
DJ: It was something that was kind of always floating in the back of our minds because we have actors who really do walk the walk and talk the talk. They really are, they're musical in their own right and it was always like people really need to know that they're just not lip synching to play back. It really is more than that. So we always sort of thought that somewhere down the line we would do something like this if we could pull it off. And then it seemed, where we came up with the idea of how we were going to effuse it, we came up with the conceit for it in the first episode and it all just sort of fell into place.
TVF: I talked to both Chip and Chris recently and they both sound really excited about it.
DJ: It is exciting. I'll be white knuckling the whole time but that's the beauty of going live, I suppose. If anybody can do it, those guys can. So confident in them. But yikes.
TVF: What's the overall feeling about getting into season three?
DJ: We left everybody at the end of season two on the precipice of these huge twists that will absolutely have a visible impact as you go into the next season. Obviously Rayna has left with a huge choice and whichever way she goes, which of course I'm not going to tell you about, it's going to have a huge impact.
And I hate using the term cliff hanger, but we really want to end the season in sort of an emotional version of what we did in the prior season, which was literally a crash, you know? We have people on the precipice of these life altering places that we land in life. And so Juliette's much the same way in terms of where she is with Avery having, basically found love truly in her mind for the first time in her life.
TVF: The only thing I'll ask you about Rayna is do we find out who she chooses right away or is it played out for a while?
DJ: Let's put it this way. There is an answer in episode one, but answers change. We have a whole season to get through after that, but there is an answer.
TVF: Let's talk about Will first. Is it safe to say he will be taking some steps forward this season as far as his sexuality and accepting it?
DJ: I think he took a huge step at the end of season two with actually saying the words out loud because you know the denial and he tried so hard to sort of squelch that in himself. So that was the first big step. I think Will is going to have a journey of two steps forward, one step back for a while because it's just not that simple in the world that he wanted to exist in and succeed in. But baby steps are definitely made.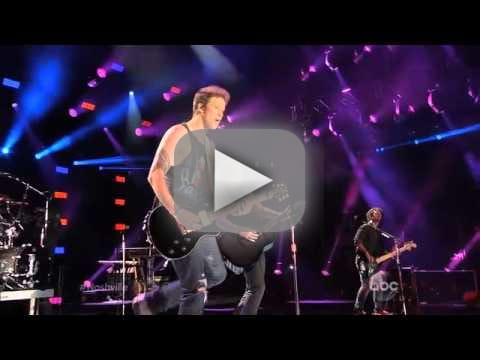 TVF: Chris [Carmack, who plays Will] did tell me recently that there's a romantic interest for Will this season and while he didn't tell me I'm assuming it's with a guy. Is that correct?
DJ: His persona is such that people of all kinds will make themselves available to him and when you're sort of at that level of stardom…I think he can pick and choose.
TVF: Let's talk about Juliette a little bit and I guess the pregnancy issue is the big question since Hayden is pregnant in real life. Safe to assume this won't go easily especially since she was with both Avery and Jeff Fordham?
DJ: Well, you know, nothing's easy on Nashville. I think that if you really look at the way last season ended, there are certainly possibilities that get played out. She has occasionally made some unfortunate choices and those come to roost fairly early on.
TVF: Everybody loves a good baby daddy story, so that'll be great.
DJ: Indeed. Indeed.
TVF: She and Avery are really good together and I kind of was rooting for them. Is there any chance that we'll see them still kind of in each other's lives?
DJ: When you really look back, it was like those literally bumped into each other in the pilot of the series and it's been sort of a long gestational period, so to speak, for them. And they have something special. I really do think that the character Juliette has never felt what she feels for Avery and kind of vice versa, even though Avery was obviously with Scarlett. I think they have a very unique connection.
TVF: Scarlett was ready to leave Nashville since she had such a hard year. What's next for her?
DJ: She spiraled plenty last year. I think that she has to regroup and find a new direction, and I think we will be surprised at where she lands.
TVF: You do such a great job with your guest stars that come in, whether for one episode or several. I love that Laura Benanti's coming on. What can you say about her character? Will she be a rival of Rayna's?
DJ: She's great. She's got kind of a lengthy arc with us and it's really been enjoyable. And I don't think it's necessarily a matter of competition as much as the character that Laura plays, Sadie, is kind of in the mid zone of a performer on the rise. Not like a brand new performer like Scarlett was in season one but somebody who's sort of right there on the precipice of being somebody. And so they're probably closer to being peers in that regard. I actually think they end up being friends more than competitors.
TVF: Does Sadie set her sights on any of our guys? There are a lot of guys to choose from on the show!
DJ: I think that she's pretty focused when she first comes in, on her career. So we'll see how that pans out.
TVF: Now that Oliver Hudson is a series regular, will Jeff still be in full-on villain mode or will we get to know this guy a little bit more?
DJ: At some point during the season we'll definitely peel the onion but initially I think that he is under much more pressure than any of the other characters realize he's under in his job. And so we'll start seeing that have an impact on him but we will peel back the onion.
TVF: I'm sure the Dancing With The Stars fan love that Derek Hough is coming on the show. Why was Derek right for this particular part?
DJ: Well, we were looking for somebody who could have movie star good looks and would really have the right chemical reaction with Hayden and it just sort of fell into place. There was the desire I think on his part and on me on our part and those things sort of coalesced and we got him on the show and it's been really wonderful having him.
TVF: And what can you tell me about his character?
DJ: I will tell you that he plays a movie star that interacts with one of our characters that sings. How about that?
TVF: That works! Lastly, is there a particular episode or story line that you're excited for the fans to really sink their teeth into and to get excited about?
DJ: I just really want them to sink their teeth in the beginning of our season because I think it's going to be a great one and I hope they plug in and stay with us all the way. There's some good stuff coming down the pike and we're trying to really challenge ourselves and do some really unique stuff in the television landscape.
Nashville Season 3 airs Wednesdays at 10/9c on ABC. 
Jim Halterman is the West Coast Editor of TV Fanatic and the owner of JimHalterman.com. Follow him on Twitter.