An excellent beginning to an intriguing season story arc was established in this stellar NCIS season premiere. 
An international mercenary has Gibbs and his crew in his sights - and the man has an intricate plan to achieve his goal.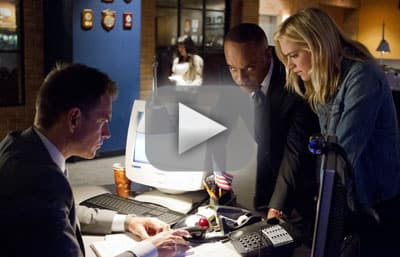 NCIS Season 12 Episode 1 began with what was supposed to be a routine mission for Gibbs and McGee to escort an NCIS system admin home. The admin - Kevin Hussein - had been under surveillance. As he possessed a lot of important classified information, Vance didn't want to take any chances.
It turns out that it was all an elaborate ruse to bring NCIS to Russia so that the mercenary - Sergei Mishnev - could target the team. 
Once again, the series writers have outdone themselves by not providing us with the usual NCIS cookie-cutter story. There's no dead body suddenly found and no need to rally the troops to get a murder mystery resolved.
Instead, they put Gibbs and McGee right on the front lines, being hunted and shot at. We got to see their tradecraft in action, as well as their wilderness survival skills. We got to see them hunted by an implacable enemy who initially outgunned them.
This was worth paying money to see. (Fortunately we had commercials to cover that angle.)  There's so much about this episode worth raving about.
It turns out that McGee and Gibbs make great silent and competent companions. Their intense actions - the double-purpose building of the fire for example - were done quickly and efficiently, while the nervous admin kept asking questions and wringing his hands in fear.
The fact that Abby was a little out of her depth with the virus thing was different too. Despite all of her precautions, that thing managed to infect the lab, and eventually the whole system. We won't go into the peculiarities of a virus being transmitted via electrical wire - that can come another day.  
It was nice to see her a little lost for once. She and McGee are necessary companions in the world of forensic and computer investigation.
Watching Gibbs do his fieldwork was a pure pleasure too. There was no sympathy for the bad guys - it was an "us or them" scenario. His skills at hand to hand combat and his sniping abilities have only rarely been seen. I think we need to see more of Gibbs as the field operative perhaps, and less of him as a team leader. 
Noticeable too was Tony's stern presence - I mean, other than the rock-paper-scissors deal near the beginning. His tendency to bark when his friends were in danger, even at Russian diplomats, was inspiring. This is a DiNozzo who will go the wall when necessary, just like his mentor.
Even Vance had a few chances to shine in this episode. Did you notice how he backed up Tony in his phone call, talking about his employees' frustrations?  Beautiful.
All in all, this was my favorite episode of the season. (Okay it's the only one so far but you know what I'm getting at). If this kind of writing continues, I can see the ratings going up, up, up.

Final thoughts:
You may have recognized the Russian diplomat, Anton Pavlenko, who was played by Lev Gorn. Gorn also played Arkady Ivanovich on The Americans.
Was it just me, or did we never see that super-virus problem get contained? That part of the story seemed to die once they had Gibbs and his attackers identified on the satellite imagery.
I agree with Bishop: when your friends are in danger, diplomacy (letting the Russians have first crack at rescuing them) sucks.
Another Gibbs thing: he apparently can be swayed through the use of reverse psychology.  "Boss I don't want to go - I went last time" Uh huh.  Bishop got schooled on that one.
Speaking of Gibbs - I wonder if we're seeing an end to "Gibbs' Rules." There was an opportunity to provide another one in this episode, but instead he chose to go the way of the Boy Scouts: always bring a lighter.
Be sure to keep on top of the NCIS stories: watch NCIS online!
Over to you.  What did you think of this season opener?  Were there any other "gotchas" in the story line?  What are your impressions of Gibbs and McGee?  Did you dislike the departure from the usual story pattern?
Douglas Wolfe was a staff writer for TV Fanatic. He retired in 2016. Follow him on Twitter
.