On New Girl Season 4 Episode 1, we join the group of friends as they go to their 11th wedding in a row. As the installment is titled "The Last Wedding," we can guess they won't be attending a 12th, right?
So, will chaos ensue?
Schmidt decides for everyone that they need to get laid, but of course he is still stuck on Cece. I really hope they don't spend this season with Schmidt pining over Cece. We have already been there and done that and it is time to move on.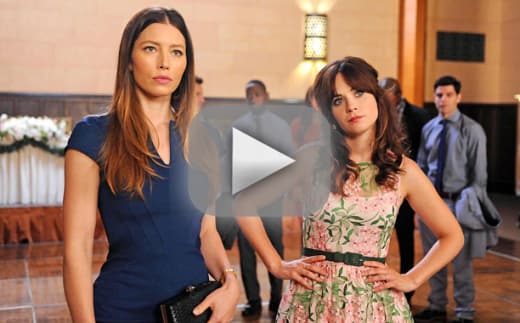 Jess is encouraged by everyone to hit on the best man Ted (played by Reid Scott) but confident woman Kat (Jessica Biel) swoops in to try to win him too. Why must they always pit women against each other?
Thankfully, the writers make up for it by having both women come to their senses and neither one goes home with Ted. I can only hope that they put Jess in a confident relationship this season or have her embrace being single.
Cece shows up at the reception and we soon discover that she is now single. Yes, we can already see where this story is going. Unfortunately, Cece was more of a filler in this episode and didn't do much except set up a possible storyline for the future. The scene between her and Nick was a nice treat and I loved how he found out she was single.
Like Cece, Winston and Coach were poorly written for this episode. We found out that Winston is training in the police academy, so he is sore and basically doesn't want to do anything but rest.
Coach, on the other hand, has been sleeping his way through weddings and forgetting the women until they confront him in this episode. Nothing happened with these two and I can only hope the writers are planning something better for them in the future.
Arguably, the funniest plot was Schmidt and Nick hitting on the bridesmaids - but both guys were in for a surprise when the women want a foursome. Nick's reactions were some of my favorites to watch (captured in our New Girl quotes section) and him running away each time actually got better and better somehow.
Who doesn't want to run away from uncomfortable situations? Of course the foursome didn't happen. Why? Because Schmidt realized Nick's hands feel like hooves. I have to add that I love that they aren't making Jess and Nick uncomfortable around each other; the little heart to heart they had was adorable.
The episode ended on a more optimistic note for fans when the friends went home with each other and destroyed the previous wedding invitations. Focusing on the friendship between everyone is a step in the right direction since it's the core of New Girl.
Overall, the episode was a nice season premiere and we should be optimistic about the upcoming antics. The shift that will include incorporating Coach and Winston more in the upcoming stories will certainly pay off.
So what did you think of the premiere? Are you excited about new possibilities?
If you miss the way things used to be, you can watch New Girl online via TV Fanatic!  
Samantha McAllister is a staff writer for TV Fanatic. Follow her on Twitter.