New Girl Season 4 Episode 3 Review: Julie Berkman's Older Sister

Samantha McAllister at . Updated at .
Oh New Girl, you are toying with my emotions again!
You saw that I was ready to quit you with New Girl Season 4 Episode 2; I accepted the fact that we were both going in different directions and we needed to just part ways now, before it got too hard. Then you reeled me back in!
This week New Girl Season 4 Episode 3 came out of the gate with two solid stories that kept me laughing right up until that final, spongy end. It gave me an idea of what they want to accomplish this season.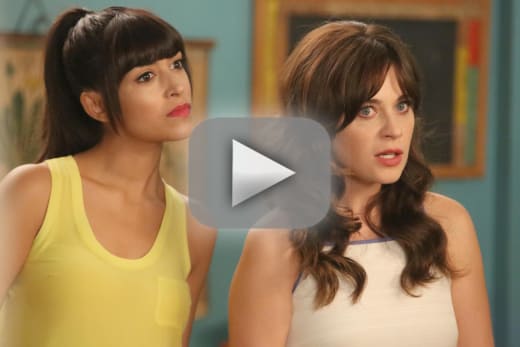 My only complaint about is the odd subplots. It seems as though the writers are really pushing two different stories within a 30-minute episode; I was left confused. There could have been some great scenes with Ashley, Jess's high school nemesis, and the guys. Come on -- a recovering sex addict and Schmidt? It's a story in itself!
The best scenes belong to the guys. Schmidt putting them in a focus group for sponges was inspiring. Putting the guys together is something that New Girl can consistently count on. Not only are they great with delivery, but the physical comedy is always spot on. Fingers crossed that next week Coach and Winston get a little bit more to do. 
That is not to say that Jess and Cece's plot was weak, but unfortunately this storyline has been done before. It was nice seeing Bob Day and the reaction to Ashley was spot on. Come on, we've all had that unfortunate run in with people we'd rather forget. The 'cumin' joke -- while juvenile -- was pretty funny. 
Congrats to the producers and writers for bringing back Schmidt's boss, Gina! Michaela Watkins is always a welcomed guest star on this and any other show. What can I say, I miss Trophy Wife and I need to get my Michaela fix somehow; this woman is hilarious!
Was I the only one a little confused by the ending? I wasn't sure if I was supposed to cringe or laugh; so I did both.  
New Girl, you seemed to have redeemed yourself. I'm still not completely happy, but tonight was a strong episode. It seemed like the actors were having fun, the writing was strong and the plots made sense. I'm going to feign ignorance and be optimistic for next week. 
What did you think of tonights episode of New Girl? How do you feel about the two very different storylines going on within the episode? What do you hope to see happen in the next episode?
Don't forget, you can always watch New Girl online via TV Fanatic if you've been left behind or need to catch up!
Samantha McAllister was a staff writer for TV Fanatic. She retired in November 2018.