Once Upon a Time Spoilers: Producers Preview Elsa/Emma Friendship, Captain Swan & Lots More
Jim Halterman at . Updated at .
Do you want to build a snowman?
Anyone who knows the Disney film Frozen is familiar with this song, but can you imagine Once Upon a Time's Regina or Hook singing it with Elsa and Anna?
Well, we did get Josh Dallas to sing "Let It Go" during our San Diego Comic Con coverage - yet now that Once Upon A Time Season 4 Episode 1 is airing on September 28, we already know that Elsa, Anna, Kristoff and Hans are headed for Storybrooke.
How, exactly, will it all work?
Creators Adam Horowitz and Edward Kitsis recently gave me a sneak peek into what they have planned. And, while these fresh faces will play key roles going forward, rest assured that the series won't ignore Rumbelle, Captain Swan, Outlaw Queen and the Charmings. Never fear, OUAT Fanatics, let's find out more right now...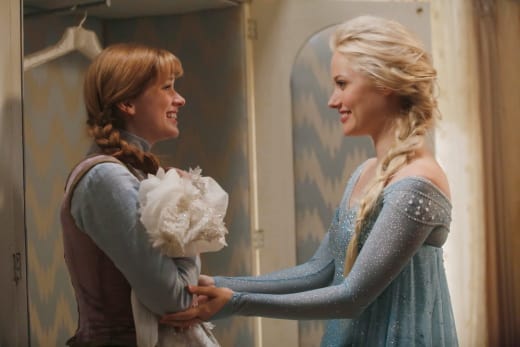 TV Fanatic: When did Frozen first come into your minds for the show? Was it when you saw the movie or was it something else that was like, "Hey, this should be a part of our show?'
Edward Kitsis: Really, it was kind of an evolution. We went to see the movie when it came out, I believe it was last November, and we immediately responded to it. We felt like thematically and character-wise it was so inspiring. Fans started to say, "Oh, wouldn't it be cool if we had Elsa on the show or Anna on the show or this and we could do that." The writers in the room had all seen the movie as well, so all the writers, between doing other episodes we'd talk about it and how it would be cool.
And then all of a sudden, it was February, and we're close to the finale, and we all had so many ideas and we're still so inspired by this film that we thought, "Well, you know what? Why don't we ask? The worst they can say is no," and we all assumed they would say no. So, we were like, "All right, at least if they say no, we can stop talking about it." And they said yes and we were both excited and terrified but that's really how it happened, and we've been saying this is just really expensive fan fiction. And we were just so enamored by the film and inspired by it that we just really wanted to bring those characters to Storybrooke.
TVF: What can you say about Anna and Elsa in Storybrooke?
Adam Horowitz: What we do know going into the season is that somehow Elsa wound up trapped inside and urn in Rumplestilskin's castle. So, that is one of the mysteries that will be unfolded over the course of these episodes. So, we can learn how that happened, and then once she gets out, of course, there's going to be a new mystery, which is what is she doing, why, and we learn that very quickly.
TVF: In terms of where the movie ends and when they show up in Once Upon a Time, is it safe to say the movie is kind of before their time in Storybrooke?
AH: Yes, these events take place, for the most part, after the events of the movie. There's a flashback element so there is a little jumping around in time in that way, but the characters, like when we bring Elsa to Storybrooke, we see her post-movie.
TVF: I can't imagine there's anybody who hasn't seen Frozen at this point, but just in case there's somebody that hasn't, will they be able to follow the story?
AH: We hope so. We designed the story to be pretty self-contained in the sense that you learn about Anna and Elsa and who they are and what they're after in the body of our show. If you are, as I'm sure everyone is, a fan of the movie Frozen, there are many nods to that film throughout.
EK: But if you've never seen Frozen, in true Once fashion, we will introduce these characters and show you what makes this tick over the first half of the season.
TVF: Is it safe to say, since you guys have done this before in the past, that you might be putting your own spin on the characters?
AH: We're trying to stay true to the characters. This isn't a case of taking 80-year-old characters from another era and trying to update them. These characters are contemporary…and the twist for us isn't so much in the characters but in how they fit into our world.
EK: For us, it's not so much about, 'oh, you know, what we did to Peter Pan.' For us, what we love about Anna is she never gives up on the people she loves. She sees the best of them and she's fearless. So, what happens when someone's completely fearless and full of hope like that comes across the devil himself, which is Rumpelstiltskin?
TVF: Is there a particular character that they attach themselves to in the show?
EK: I think you're going to see that Elsa and Emma are going to have a friendship that we're going to see play out. I think we're going to realize that they have a lot in common but the Frozen arc is definitely going to be affecting everybody. But at the same time, for Once Upon a Time fans, we are still going to see Rumple and Belle and we know that he's lying to her about the knife. And we have Marian, who just came back to thwart Regina's happy ending just when the Charmings have a baby.
We are going to be turning Frozen but not at the expense of the other stories. We're going to be telling all of them. So, you know, Once fans who think that Frozen is going to take over can relax and Frozen fans can also be excited because they're going to see Hans and Christophe and Elsa and Anna and the trolls.
TVF: Tell me about Regina, because Marian is there and it's going to kind of crush her relationship with Robin Hood, is she back in Evil Queen mode? Where do we find her?
AH: Regina's a constantly-evolving character. She's not going to revert to what she once was because people don't generally do that. But what we want to show with her is what we think people often do, which is they move forward but the elements of who they once were are something that they're kind of battling. So, the Evil Queen part of herself is something that she's going to have to kind of wrestle with, as she deals with a huge blow to what was a glowing moment.
TVF: How would you guys describe Marian since we only saw her briefly in the season finale?
EK: I think that this Marian, when we meet her, she is very freaked out. She was in a jail cell waiting to die and then all of a sudden, thanks to Emma, she wakes up in a strange world with a strange land and she has no idea what's going on. Like Robin Hood, she just saw him two weeks ago and never thought she'd see him again. But of course, for Robin Hood, it's been many, many years, and they have a son that doesn't even really know her that well.
So, she's really disoriented in trying to get a handle on everything. But I think one thing is it's one thing to find out your husband thought you were dead and moved on. It's another when you find he moved on with the person who killed you.
TVF: I know we'll also be meeting Belle's mother this season…
EK: We're going to meet Belle's mom briefly at first but we're going to meet her in a flashback. We've seen Belle when Rumple met her. We've seen Belle post-Rumple but we've never really seen her pre-Rumple so that's what we're going to kind of show. We're going to see a flashback to Belle pre-Rumple that will lead up to that and kind of explain where she gets her love of books. We're going to see where Belle got the idea of wanting to be a hero.
TVF: Will the Rumpbelle relationship will be a little shaky because of certain secrets that might come out?
AH: I wouldn't necessarily use "shaky" as the adjective. What I would say is that all relationships are going to face challenges. In fact, I would say that the marriage we saw at the end of season three was a real marriage based on real love. The fact that there is a dark secret behind it is troubling but their love is strong at the start of it and that secret and maybe some other things will provide challenges.
TVF: I've made it very clear that I'm a Captain Swan fan, so what can you say about that relationship moving forward?
AH: I would say as far as Emma and Hook go, it's a similar thing. The show is not something we want to turn into two people watching Netflix. They're going to have their challenges. There's going to be an exploration of Hook's character that involves the past that we've seen of his already, that he's dealing with. Emma's going to be dealing with her own past as well. And the two of them, while taking big steps forward, are going to also be having to deal with some roadblocks and obstacles that are unique to their situation. But the two of them do have feelings for each other that we've seen grow, obviously, and those feelings are going to continue to be explored.
TVF: Charming and Snow have a new baby so what's their piece of the pie?
EK: We're really excited that episode two is going to show a Charming flashback, when he was a shepherd who meets Snow White. And the baby is also going to impact their lives in different ways. Of course, they were not around to raise Emma, so they're really like first-time parents but at the same time, this child is getting the thing that Emma never did. And I think we're going to see Mary Margaret, Snow White, dealing with some of those issues as well as she's going to find herself with new responsibilities in town.
TVF: Henry – and Jared Gilmore – are growing up. What's he up to in the new episodes?
EK: We've seen in the past his Operation Cobra with Emma and in bringing Emma to town. We've seen him fight Pan and what we're really excited about this year is he is going to help his other mother, Regina, and they're going to have their own operation that we're going to see launch in the premiere. Henry is also going to find himself with an after-school job. It's not launching in the premiere, but we see it very, very quickly.
TVF: Any chance we're seeing any old, not old faces, but friends from the past, whether it's Rebecca Mader as the Wicked Witch or Robbie Kay as Pan? Anybody who might pop up again?
AH: We have plans that we're not ready to divulge yet.
EK: We can tell you, you know, in the premiere, we're going to see Giancarlo Esposito as the magic mirror, which we were really excited to see again.
Once Upon a Time Season 4 premieres on September 28 at 8/7c on ABC.
Jim Halterman is the West Coast Editor of TV Fanatic and the owner of JimHalterman.com. Follow him on Twitter.