We're on the road on Outlander Season 1 Episode 5, - but does Claire actually have more freedom or less away from Castle Leoch?
And why, amongst other things, is she about to pee in a bucket? (Well, a girl's gotta do what she can to do to keep Jamie curious about her, right?)
Let's find out all the goodness that happened in an solid episode written by Toni Graphia and directed once again by the amazing Brian Kelly (who also directed the previous two outings). Here are some high points from the episode and know instead of the traditional linear review, I'm going to bounce around a little here so be a good lad or lass and keep up, okay? 
Scenery: Castle Leoch has its charms but now that we're out in the world again...WOW! This episode shows that there's a definite advantage to shooting in Scotland and with just about every exterior shot we see why. From the opening scene and then throughout the hour, the views of Scotland are just breathtaking. (I think I know where my next vacation is going to be. Anyone else?)
Poetry: It's not every day that a TV show incorporates English poet John Donne's work into an episode but, damn, if Outlander can just do anything, right? Here it serves as a way to introduce Claire to Ned Gowan (Scottish actor Bill Paterson), the MacKenzie lawyer who travels with the clan for the collecting of the rent and seems to know his poetry. He and Claire strike up a friendship on the trip and he serves as the voice to explain a lot of what is happening with travels from village to village to collect the rent, But, be careful, Claire. Maybe don't confide in kindly Ned too much. He's probably just as loyal to the MacKenzies as everyone else.
Claire: Absence here thou my protestation
Against they strength,
Distance and length:
Do what thou canst for alteration,
For hearts of truest mettle
Absence doth join and Time doth settle.
Meet the Red Coats: Now that we're away from the safety of Castle Leoch, we're going to be reminded that the Red Coats - Captain Jack Randall - are closer than we think and we unknowingly meet one at the village after Claire creates a scene over a goat that's been paid for rent but she feels should stay with the family. We'll find out later that he is Lt. Jeremy Foster...more to come with him!
Jamie's Intuition: Without Claire saying anything, Jamie knows she's feeling left out at the beginning of the episode where the men are speaking gaelic in camp while they eat. And later when she's again creating a stir about the practices of the MacKenzies collecting the rent, Jamie goes out of his way once again as he tries to set her straight. Yes, folks, he's not too overt about it but he's keeping an eye on her and not because of this whole spy business. *wink wink*  And Claire still is living only to escape these people and this time but you know she swooned just a wee bit when she found Jamie asleep outside her door as a sign of protection. (I know I did!)
Claire: What about you? Do you think I'm a spy for the British?
Jamie: No, but I do think there are things you're not telling us.
Rent: On first look, Claire is awfully judgy about the way Dougal and his men go from village to village taking animals, food and money as a form of rent for living on the MacKenzie land. We see Dougal as warm and gregarious with the villagers which initially is off-putting because it would appear that they're basically stealing from the poor. And in the evenings he invites the village to drink and celebrate but what Claire also gleans is that he uses poor Jamie and his scarred back as a guilt tactic to get more money out of the town. It works every time and we see how quietly Jamie is humiliated... but he stands for it only as a sign of his dedication to the clan. (Um, we love Sam Heughan's shirtless moments but in this context, it almost takes any sexiness out of seeing him shirtless. Almost.)
Claire: How do you think Colum will feel about you helping Dougal steal money from him to line his own pockets and using his nephew Jamie to do it?
Ned: Aren't you the canny lassie.
Claire: Just wondering how it works.
Pee: I didn't know about setting fabric dye with the help of urine but it's a real thing and we see the tradition here when Claire wanders off and finds the women of the village singing and working while their hands are grounding urine into the fabric. The women are initially not overly friendly to Claire but they start to warm up to her when she participates in the tradition.
After the work is done and the ladies share a drink (to basically keep the pee flowing, we find out!), Claire asks about how close they are to Craigh na Dun (3 days travel, she's told) and she's about to pee in a bucket to help the women when a pissy (so to speak) Angus shows up and roughly drags her off. Having seen a hungry crying baby with the women, Claire attempts to take a goat from the rent collection and creates a scene, which could cause more problems than she realizes.
Even amongst the vast and beautiful landscape I felt trapped as if I were back in the stone walls of Castle Leoch. Would I have to reconcile myself to live the rest of my life amongst strangers two hundred years in the past?

Claire
Business?: At yet another village, Claire watches some pretty ruthless pillaging is happening and a house is also burned as a way to send a message. She's told it's because these particular Scots have been dealing with the Brits but Claire doesn't care, refusing to later eat the chicken given to her since it was stolen from the village. She creates such a fuss that Angus pulls a knife on her. Jamie steps in and calms him down. But Jamie talks to her, this time questioning her over what she is doing and being a bit more firm with her. 
[to Claire] It doesn't matter where you come from. You're here.

Jamie
The Future Explains The Past: We don't get to see Frank in this episode until later in the episode when Claire witnesses Dougal actually giving a poor village some of the food they've collected. It goes against what we think has been going on and it sparks Claire to remember Frank explaining about the Jacobite Army, which would revolt two years later, in 1745. Suddenly, Claire realizes Dougal isn't pocketing money for his own gain but he's building funds and loyalty amongst the villagers for the Army.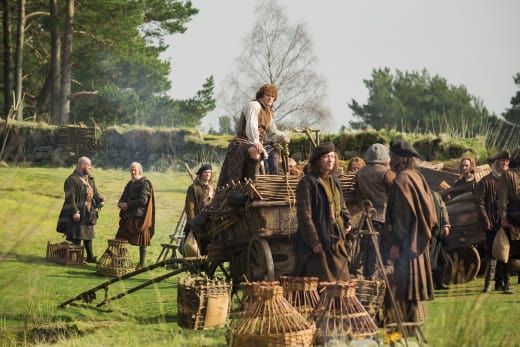 Good Intentions: Later, Claire thinks she's doing a good thing by trying to warn Ned against putting much stock in an army being successful. She knows as a time traveler that it will end up as a failed endeavor. In fact, we see Claire and Frank in the 1940s coming across a tombstone for the MacKenzie clan during the war. However, all best intentions aside, her talking to Ned doesn't help but only raises more suspicions, which leads to my favorite scene at the end of the episode where Dougal confronts her once again with a blatant 'Who Are You?' Unfortunately, they're interrupted by the appearance of some Red Coats, including Lt. Jeremy Foster, who asks Claire if she is alright. There's a huge amount of tension between Dougal and the Red Coats and the episode ends.
[to Dougal] I'm trying to save your life!

Claire
Hold On Tight: Having already seen next week's episode, all I can tell you is be prepared. While it's one of the best episodes thus far, it's also one of the most brutal and toughest to watch at times. But great performances, big advancements in the story and overall great storytelling will have you awestruck. Trust me on this. 
Outlander airs Saturdays at 9pm on Starz.
Jim Halterman is the West Coast Editor of TV Fanatic and the owner of JimHalterman.com. Follow him on Twitter.