Fashion, fun, romance and intrigue; both domestic and international.
Indeed, Royal Pains Season 6 took us through another eventful summer in the Hamptons with HankMed. Let's take a moment to review and grade past 13 episodes, shall we?
Best Guest Star(s): Hands down, Khloe Kardashian and Scott Disick in Royal Pains Season 6 Episode 13. I don't even care that they only appeared for the better part of 60 seconds. There's just something about seeing those two on Royal Pains that felt right.
Most Growth: This season was Jeremiah Sacani's for the taking. He found a love interest in Vivianna, had a falling out with Divya in Royal Pains Season 6 Episode 9, and by the end of the season, not only had he managed to make up with Divya and begin to deal with the pending loss of Vivianna to her studies in the southwest, he actually sought out an unlicensed therapist to work through his self-recognized growth. Standing ovation for you, Dr. Sacani.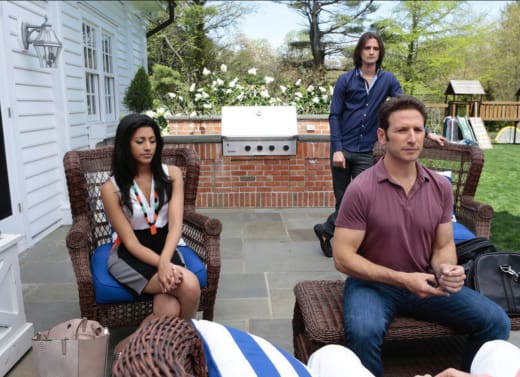 Biggest Surprise: I am pretty sure no Hamptonite tuned into Royal Pains Season 6 Episode 1 expecting a bomb to drop that Hank and Evan had a long-lost younger sister. After 5 seasons, one would have thought we knew all there was to know. Lo and behold---we were wrong! So for that reason, the appearance of Emma was this season's biggest surprise.
Best Episode: Royal Pains Season 6 Episode 13 walks away with this category. From Paige and Evan moving on from marriage therapy, Emma going on tour with Eddie, Divya unexpectedly reconnecting with Raj, Jeremiah seeking counseling, to Hank and Evan getting back to what makes them a great team, there was no better way to bring the season to a close than with a great brother-moment in the final minutes of the episode.
Hope for Season 7: Mostly that it gets announced. I know I wasn't the only one wondering what the purpose of Raj showing up in the season finale could possibly be. I feel like the writers have a plan, and I'm totally on board. Other than that, I am open to see where the season takes us!
Grade: B.
What grade would you give Royal Pains Season 6?
C. Charles is a TV Fanatic Staff Writer. Follow her on Twitter.