Satisfaction Review: A Crack in the Foundation

Carissa Pavlica at . Updated at .
Coming clean without actually saying a word is what happened between Neil and Grace in Satisfaction Season 1 Episode 9.
Once again, all of the theorizing in the world didn't come close to what actually happened during the hour. 
Grace initially freaks out upon learning Neil knows about her and Simon. She even fantasizes about a life with her escort, who has promised to take care of her. He has a backup plan. But witnessing a breakdown between Mateo's parents and the impact on Grace has a hollowing effect.
Telling the truth, out loud, with words, no longer holds the appeal it might have had earlier in the minds of the Trumans.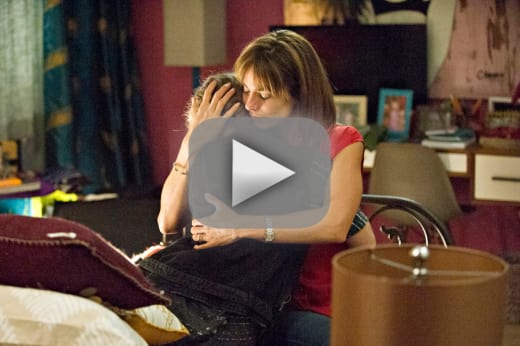 For my faithful readers, I'm witing this while listening to the sweet song (Come Clean) Anika and Mateo recorded for their demo. The best part of Anika as a character has been her exploration of music and how it runs concurrent to the lives of the adults. This week was no exception. 
Michelle DeShon, who plays Anika, is an incredible actress. She gives layers to Anika that bring context to her parents. This is her breakout role and, believe it or not, music isn't second nature to her. She's going to have a brilliant career.
Neil and Grace watching Anika and Mateo decide to talk though their issues rather than walk away angry will hopefully set the stage for them to do the same thing.
"Show me I'm not the only one here sinking, are you letting go or holding on to me, oh, if you come home, come clean." 
The ballad of Neil and Grace. 
We still have very little information to understand Grace. Simon entering her house didn't feel like a comfortable moment for her. She was shocked and surprised at what Simon had to say, both about her husband and about his own feelings for her. Yes, it's flattering to think you might have tamed the heart of a wild boy, but I don't think that's the takeaway from "Through Revelations."
I loved how they showed all of the things that Neil has said to her, possibly since his awareness of her affair, and how the two men in her life were juxtaposed in her mind. They're so different. She seems to understand that, at least.
Out of it all, here's what I saw.
When Grace dazed out in her own fantasy about a life with Simon, it didn't feel like she was ultimately happy. Simon giving Grace her dreams, being all in for Grace -- without care for his own needs --  is pretty damned attractive. In her fantasy, he has an endless supply of money (we know he doesn't) and he's fully supportive of her dreams. But...
Neil comes by to pick up Anika and in her imagination Neil is happy for Grace. It's almost as if she believes he might be happier to let her go than to fight for her. We know that's not true. But the way that Grace looks at Neil, right after he tells her how happy he is, shows that she hasn't let him go -- not even in her dreams.
Oh I know there will be arguments aplenty about this theory. I do I do I do. And then Mateo's parents had their extraordinarily personal explosion in front of the Trumans, making the them realize how dangerous and painful speaking the words of truth can be. 
I wanted to force them to tell the truth, but the bottom line is that both of them know what's going on. Grace fessed up between the lines by telling Neil they both know it's not true that she shouldn't be afraid to say anything to him. She suggests therapy, and considering Adriana's statistics that 70% of divorces are initiated by women, that's a good thing.
However, Grace still doesn't know about Neil. Adriana still wants Neil badly. She poked Simon the Bear and drove him to do something to move things forward and toward his own end. 
Given the photos for next week (found after the review -- you're welcome) and the preview, something bad is going to go down. What kind of favor did Simon call in? Whatever it is, it's likely to reveal the rest of the story to the Trumans whether they like it or not.
"There must be a crack in the foundation or something," is what the neighbor says about the pool. The pool, the symbol of their lives since the very beginning, is cracked, as is the foundation of their marriage. Even though they have decided to go to therapy, their marriage has sustained incredible damage. They don't even know how much yet. but they've decided to get help. Will it be enough?
I still have no doubt they love each other and the majority of their problems stem not only from their inability to communicate, but from their inability to understand each other when they do. There is always a pause while they reflect; is what he/she just said what I think? Then, somehow, they spin it to be a negative instead of the intended positive.
It happens all the time in real life, so why not reel life, too?
Adriana is a crab. She's hard as hell on the outside and soft inside. Her tears when she called to apologize to Neil about her offer were genuine. She had no reason to leak them; it was a telephone call. We may find out what's at the heart of her issues when we meet her husband next week.
I have a feeling that this season was to break the Trumans' marriage and if given a second season it would have been about mending the cracks. Not necessarily fixing things straight away (how could a series surge forward on that?), but to examine the damage done. 
With the less-than-appealing ratings and the myriad of people across the 'net who seem intent on interpreting this entire voyage as negatively as possible, we're likely never going to find out. 
So, let's make the most of the discussion we have now and of Satisfaction Season 1 Episode 10 when it comes. I know my interaction with you will enlighten me and add more to every thought in this review.
If you haven't seen the series, you have a week to play catch up. Watch Satisfaction online and join in the conversation! 
Carissa Pavlica is the managing editor and a staff writer and critic for TV Fanatic. She's a member of the Critic's Choice Association, enjoys mentoring writers, conversing with cats, and passionately discussing the nuances of television and film with anyone who will listen. Follow her on Twitter and email her here at TV Fanatic.