Let no one say South Park Season 18 Episode 1 did not keep up on its current events.
The Comedy Central classic roared back on Wednesday evening with an installment that tackled pretty much every scandal in the news right now, from ISIS to Ray Rice.
But it saved its harshest (and most hilarious) critique for Washington Redskins owner Daniel Snyder.
See, Cartman and company launched a startup that they dubbed the "Washington Redskins" (Bonder Forest was taken, after all), which pretty much focused on finding "new and exciting ways to tell people to go f-ck themselves," according to Cartman.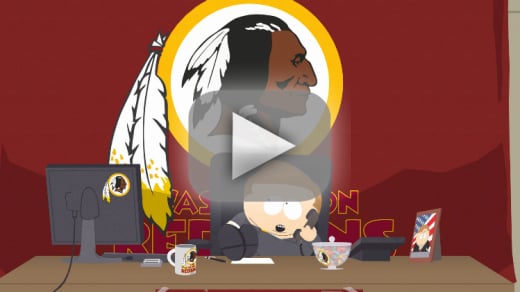 Snyder didn't like this, so he consulted with NFL Commissioner Roger Goodell, at which points the show (amazingly!) played an ACTUAL recording from Goodell's recent press conference.
In typical South Park fashion, of course, things went way too far when Snyder rallied the Redskins to destroy Kickstarter's headquarters, while including with it a Ray Rice-inspired elevator assault.
It's a trifecta!
In the end, the kids gave in (they even received threats from ISIS) and everything in South Park returned to normal… for South Park at least.
If you missed this awesome return episode, you can click Play above to watch South Park online.
Matt Richenthal is the Editor in Chief of TV Fanatic. Follow him on Twitter and on Google+.