The Big Bang Theory Season 8 Episode 1 Review: The Locomotion Interruption

Carla Day at . Updated at .
The Big Bang Theory cast got a huge pay bump for Season 8, but what about the writers?
Wow. That season premiere was an utter disappointment in the laughs department. It was more depressing than funny.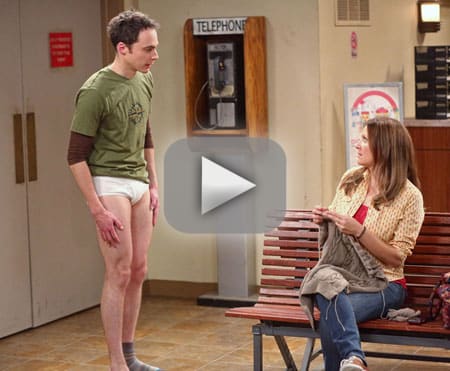 Sheldon ran into trouble on The Big Bang Theory Season 8 Episode 1 after taking a hobo train trip for 45 days when all his belongings were stolen. Sheldon walking around in his whitie tighties in an Arizona train station should have been hilarious. Instead of being funny, his interactions with the people in the train station left me cringing and uncomfortable. 
His situation didn't improve while he waited for Leonard and questioned the police about the robbery. He was the same old pestering Sheldon. Is Sheldon becoming an annoying character rather than a funny one? Would this have been funnier seasons ago? I don't think so. This is the side of Sheldon that's more annoying than funny. The hot dog stand bit ... sigh. I didn't care any more than Leonard did.
And, if I wasn't disappointed enough in Sheldon's actions, his worry about failing came across as contrived and awkward. He's gone from one of the best aspects of the series to one of the worst and that's depressing. Not even a psych out about coitus with Amy saved it.
The other stories weren't much better.
The Big Bang Theory could use some new beginnings and Penny's career shift sets up some humorous ground to cover. The actual interview and bonding over Bernadette's secret scary side felt shorted. Her initial interview was so horrid that it would have worked better if we saw more of Penny's banter with the interviewer and then the job offer.
When the episode ended, I was most interested in where Penny goes next. Her career move has the chance to rejuvenate the series, though it's too bad Sheldon didn't return with any positive character development. I'm looking forward to Penny's new career as a pharmaceutical sales rep. I can't wait to see her interactions with doctors, nurses and other medical professionals, which should provide lots of opportunity for laughs. 
I had mixed feelings about Howard's discomfort over Stuart's relationship with Mrs. Wolowitz or Deb Deb. This was probably the funniest of the three storylines. The voice mail greeting was hilarious and it was nearly topped by the argument between Howard and Stuart over the situation. Shouldn't Howard want his mother to be happy? Yes, but Stuart as a "father" is definitely too much to ask of him!
Was I too harsh on the episode and the outcome of Sheldon's train trip? Or was it more depressing than funny? What did you enjoy the most in the hour? Funniest bit?
Check out our The Big Bang Theory quotes section for some laughs and watch The Big Bang Theory online anytime.
(NOTE: Be sure to also read our review of The Big Bang Theory Season 8 Episode 2!)
Carla Day is a staff writer for TV Fanatic. Follow her on Twitter and on Google+.