On The Mysteries of Laura Season 1 Episode 2 the writers grabbed the audience by staging a murder, as opposed to the car chase from The Mysteries of Laura Season 1 Episode 1.
It was nice to see that the iPhone got some screen time. I know that the people over at Apple are really hurting for advertisement. We even learned that we can, in fact, use our phones took take quality photos at crime scenes. 
Something that irked me tonight was the portrayal of people working in high end boutiques as bitchy. Last week it was funny to watch but this week? The joke is already old.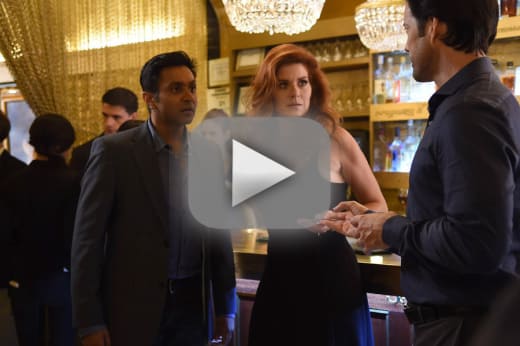 Jake finally signed the divorce papers and I'm thinking -- great he is growing as a person! Then he goes and basically tells Laura he is still hung up on her. Come on Jake! You cheated and it's time for you to move on. Laura has!
Jake constantly forgetting Max's name was starting to get irritating. I don't really know what Max's title is and I know the writers are trying to make this a running joke but -- please stop now. Congrats on giving Max more to do, though. Now lets flesh out Meredith!
It is a little disappointing that the potential bromance between Jake and Billy ended before it began. We could have had some fun with these two! Hey maybe Max is available; if Jake ever remembers his name. 
I am pretty sure that I am falling in love with Billy. First he tries to be friendly with Jake and then next he states that he will always choose Laura. This guy is just great, please don't screw him up writers, I beg of you!
Thankfully the kids were not in the episode that much but the little bit that they were in was irritating. We touched on this in the comments last week but the kids are going to get old very quickly. Constantly not having a sitter and having them run around the station? Yeah, not going to work.
It seems they are having a hard time making a nice balance between comedy and drama. There were some really funny moments (the speed dating) and then some dramatic moments (Laura almost getting killed). It was very uneven and it seems that they are still trying to figure out what they want to be.
The story tonight was just not that interesting. I felt bad for the victim and hated the killer (show of hands on who wanted to strangle that guy) but it just seemed choppy tonight. The first episode was well written and flowed well but Episode 2 was flawed. 
What did you think of Season 1 Episode 2 of The Mysteries of Laura? What do you hope to see happen with Jake and Laura? Do you think the show has a nice balance between comedy and drama? 
Don't forget, you can watch The Mysteries of Laura online anytime via TV Fanatic! 
Samantha McAllister is a staff writer for TV Fanatic. Follow her on Twitter.