The Real Housewives of New Jersey Review: What Was She Wearing?

Christine Orlando at . Updated at .
Someone pled guilty and someone just laid on the "Guilt Trip" on The Real Housewives of New Jersey Season 6 Episode 8. We recap the phony tears and mean texts in our +/- review...
Teresa and Joe Guidice finally went to court to plead guilty to fraud charges and play let's make a deal with the prosecution. What was the outcome? Oh, who cares about that. All Ter-eh-sa wants to know is what was Tre wearing when she went to court.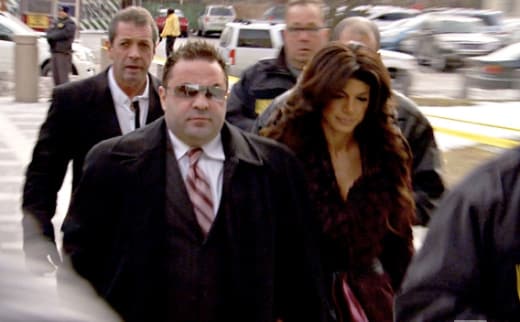 Seriously? Minus 23. There are federal charges hanging over the Giudice heads, possible deportation and four kids who may lose one or both of their parents and that's what Ter-eh-sa asks Rina? What was Teresa wearing? She brings a whole new meaning to the word shallow.
On the other end of the spectrum is Amber, who calls Tre at home sobbing into the phone after reading rumors of the plea deal online. 
Plus 30 to Gia for laughing at how ridiculous Amber sounded. Honestly, didn't she just meet Teresa a few weeks ago. Now she's got mascara running down her face like her best friend just died. 
And how many times does Teresa have to say she can't talk about the details of her legal case before (I don't pry) Amber will stop asking about it? Thankfully Tre kept her mouth shut because we know how good Amber is at keeping a secret.  
But if we've learned anything it's that Amber loves the drama. Why else would she call and text Bobby after Jim says he has no interest in talking to him. Minus 15. Maybe Amber's just not getting enough attention at home. 
At least Melissa and Dina were trying to do something to lift Teresa's spirits. Some sunshine was definitely in order after this latest Jersey winter but we all know this trip will be anything but drama free. 
On a side note, I have to admit that Melissa Gorga is a great advertisement for her private trainer. No matter what you think of her, she definitely looks hot. Plus 12
As a matter of fact, all of the ladies were out in the snow, pretending to shovel and I have one question for Ter-eh-sa and Nicole. Who the heck gets an iced coffee in the middle of a snowstorm in February?
At Dina's Project Ladybug meeting, Amber pulled Teresa aside to repeat just a few feet from Ter-eh-sa and Nicole (and in front of several cameramen) that she decided not to say anything about Rino sleeping with his wife's mother. But you can see just how much she's bursting to make sure that juicy piece of gossip gets out. Minus 33.
And next week it looks like she uses her weaselly little husband to get it done.
Episode total = -29!                             Season total = -593!
Do you feel sorry for what Teresa Giudice is going through?
C. Orlando is a TV Fanatic Staff Writer. Follow her on Twitter.