The Strain Review: Kelly's Flashbacks

Henry A. Otero at . Updated at .
In my opinion, The Strain Season 1 Episode 10 ranks among the top 5 most important and well-written episodes this season. Major props to writer Gennifer Hutchison for nailing this one!
As someone familiar with the story, I've been eagerly anticipating this week's events since watching The Strain Season 1 Episode 1.
Wowza! This installment totally delivered the goods.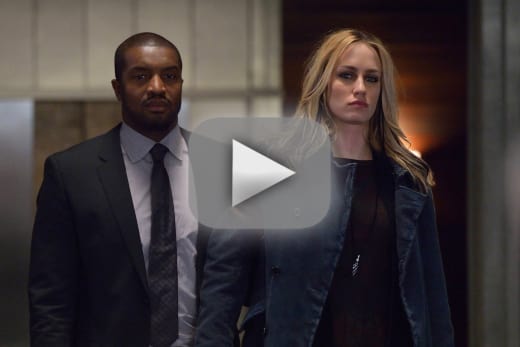 "Loved Ones" opens with our little genius in search of a laptop. Not just any laptop mind you, a Mac. Did you notice how he skipped over the Dell? True he was planning to use Safari to pinpoint his mother's iPhone, but I just found that amusing. There's humor in those little details.
Turns out Zach had misplaced his phone, so he knew exactly how to track a lost iPhone. Cool that the internet and WiFi was a bit wonky courtesy of Dutch. Nice touch!
Zach and Eph realize the iPhone's moving and during the day which is a good sign. However, if you watched FX's teaser you already knew Kelly lost her phone. Those damn official promos are the worst spoilers of all.
Yes, Eph apologized to Nora for being a jerk though it probably won't be the last time. Setrakian encourages him to go in search of Kelly but warns him to be prepared for what he might find. Naturally Eph is hoping his ex wasn't stung by Matt in their little scuffle. I think we all knew better though.
Fet shares his strigoi tunnel encounter with Setrakian and the ladies. He explains that rats always have a back door and their best bet is to determine if the vamps have one too.
We need to look at all the decommissioned tunnels and lines near the World Trade Center.

Fet
Fet mentions he knows of a great tunnel archive online, which gives Dutch the opportunity to confess. She tells her story and thinks that by slipping back into Palmer's offices she can undo the damage. Fet and Dutch team up and head to the Stoneheart Group's building.
Didn't their plan seem to good to be true? You knew right away they were going to get caught. Still, the Fet/Dutch team up was fun to watch. Lots of witty banter and great performance from both Kevin Durand and Ruta Gedmintas.
Though Fet seemingly charms the receptionist into allowing them upstairs, there's a bunch of goons waiting for them when the elevator opens.
Meanwhile, Eph arrives at the iPhone's location and realizes a homeless woman is now its proud owner. She turned out to be rather helpful though after he bandaged a nasty burn on her leg.
Kelly's car was parked not far away and the woman tells Eph she found the iPhone on the ground next to it. Yeah a bloody tissue is never a good sign. Especially when vamps are involved. I think Eph realized she was infected at this point.
No Poland flashbacks this week, but I loved that we were taken back 32 hours to when Matt was infected.
We now have a clearer picture and understand that Matt was indeed infected by those strigoi at Sears. When he first returns home he's still in the early stages and able to resist feeding off Kelly. Much like Regis Air victim Ansel earlier this season.
Later that morning, Kelly realizes most of the staff and many students are out sick. It only took her 10 episodes to realize Eph wasn't just talking because he loves the sound of his own voice. Sorry, a little late Kel, strigoi-Matt is waiting to have you for lunch.
Honestly, I had not really noticed the scratches on Matt's face. Sure, everyone kept talking about them, but watching Kelly use the blades of a blender on him made everything clear. Of course, the creepy crawlies ooze out and a little guy slips into her eyeball.
How cool was that scene by the way? I've been waiting to see the connection between the controversial FX promotional posters for The Strain and the series. Thanks for that creative team; it was worth the wait.
Kelly ultimately manages to escape, but the damage is done. Did you notice her hands while she's checking her eye in the car? Those damn blood worms had multiplied at record speed.
When next we see her, the car is parked in the spot where Eph found it. Kelly had fallen asleep most of the day and was now making the strigoi noises we've all come to love. Wasn't crazy about the Kelly character, but I feel bad for Eph and Zach. It's going to be heartbreaking when they learn the truth.
It's no secret the strigoi go after the ones they love. Kelly immediately heads to Zach's school to pick him up.
This scene was important because we now know why Diane had Zach and dropped him off at home last week. Remember? When Eph arrives and decapitates strigoi-Matt in the opening moments?
Did 911 hang up on the school principle when she called about Kelly? WTF seriously? Or did she call someone else?
Eph returns to the family home thinking perhaps Kelly's gone back there. No luck, though we flashback 17 hours and do get to see her feed off Diane and her son. I felt bad for the kid but Diane, not so much.
Mr. Fitzwilliam takes Dutch to Eldritch Palmer. The old man reminds her she's part of all this as well and that he bought her. She's trying to understand why he would help bring mankind to its knees.
Palmer: Human DNA decays as we age. Over time it frays and it fails and we follow suit. But it's a code that can be rewritten. Re-write the software and you control the hardware. The meat, muscle and tissue that is mankind.
Dutch: To what end?
Palmer: If hacking is about exploring the limits of what is possible, then I am on the verge of achieving what you would consider the ultimate hack. Cheating death.
Dutch: Immortality?
Palmer: Yes
Dutch loses her shit when Palmer calls her insignificant and invisible. He played her and she predictably did a great hacking job for him. Fitzwilliam drags her out of the room and later releases the two intruders. It felt pretty obvious Palmer's caregiver and head of security didn't approve of the old man's plan. Will he join our heroes and fight The Master?
Our final flashback is 15 hours earlier and Kelly hears The Master calling out to her. I enjoyed that quick look at strigoi-vision as the couple walked past Kelly on the street. Hope we get more of that effect. Strigoi-Kelly heads down into the subway tunnels and The Master appears. "Rejoice. Embrace your glorious fate," he tells her.
Last week, I didn't give my opinion of The Master's face in my review of The Strain Season 1 Episode 9. This week, I realized that less is definitely more. While the creature is hidden under his hood he's more intimidating as our individual imagination kicks in. Personally, I was expecting the reveal to look much more like the Dark Horse Comic's version on The Master. Google it and you'll see what I mean. I didn't hate the show's version, but it was a bit disappointing to me. Hopefully the creative team works to make him scarier in future episodes and season 2.
Eph's last stop is Diane's place. He quickly notices signs of a struggle. Down in the basement strigoi-Diane and her son spoon. Eph takes her out without flinching -- about time too. However, he looks away before pulling the trigger on the little boy. Yeah that was rough. Kelly's necklace is a good sign she was there and infected these two. I think though he knew she was infected, he now understands he's got to take his ex out.
Back at the pawn shop Eph tells the gang he struck out, no Kelly. Fet and Dutch admit they struck out as well. I'm not sure why Eph lashed out at Dutch, she's been nothing but cool to him. The guy still thinks he's the most important "CDC" dude in the room. When will he become a team player?
Either way, Fet steps in and defends Dutch. I can't imagine Dutch taking off after everything she knows. Where would she go anyway? Perhaps the FX teaser for next week's installment will spoil that one for us. Ha!
Zach and his father talk. Eph tells him he didn't find Kelly, but he promises not to give up.
The closing scene with the iPhone birthday footage was sad. Mostly because we get to see how happy they were at that point. Those days are long gone now kid. If/when Zach sees his mother again, it's not going to be pleasant. Bummer eh?
Fantastic episode right? Will Kelly be coming for her son next week? Does The Master have something else in mind for the Goodweathers? Your turn fellow fans, hit the comment section and leave me your feedback. Remember if you've read the books, please stick to episode 10 to avoid spoiling the show for others.
We're so close to the end now. Hopefully you haven't missed an installment, but if you have watch The Strain online right here via TV Fanatic.
Have The Master and Eichhorst been watching Kelly for a while now?
Check out the cast BEFORE The Strain came along and infected them...