When last we saw Andrew and Zelda, they shared a pretty romantic kiss, that puts romantic comedy gestures to shame. When they awake the next morning after their date, they are as happy as you could imagine on A to Z Season 1 Episode 2.
In episode 2, the show is gaining momentum and really proving how much it is similar it is to being a serialized romantic comedy--and their is nothing wrong with that.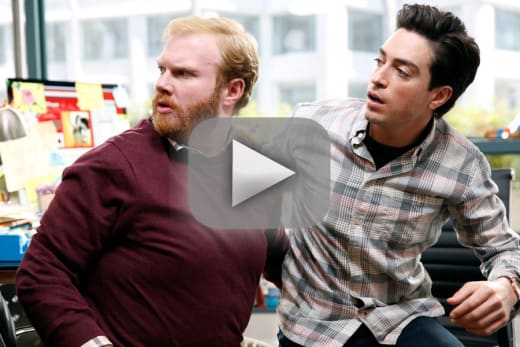 I don't think I can say enough about just how likable these characters are. Andrew, even as romantically enthusiastic he is, is one of those male characters you just fall in love with. He may even be a close equivalent to Jim Halpert from The Office, which is a high compliment to Andrew. 
Stu: I know she's not a crazy person who sits around writing 'Zeldrew' on a piece of paper.
Andrew: It's our celebrity supercouple name.
Zelda is also extremely likable, even though she can be much more of a pessimist than Andrew. That is what makes her character so interesting because there are parts that you may not like, and like her anyway. Zelda's friend, Stephie, has remained to be the voice of reason for Zelda as she contemplates how she feels about Andrew.
Zelda's shining moment tonight was the final scene.
Just when you think that she was going to give Andrew a piece of her mind, she chooses to give an adorable speech to Andrew about being exclusive. Which made that my favorite scene of the night.
One of my issues in A to Z Season 1 Episode 1 was the supporting cast. While Stu and Stephie are becoming nice additions to the show, I'm still trying to find out who Andrew's co-workers are. The former couple, Dinesh and Lora, and the boss, Lydia, have only appeared scarcely and, hopefully, they'll have more connections to Andrew in the future. Right now, it seems like its two different shows in one.
The addition of Ben Falcone's character, Howard, as the Human Resources employee was warmly welcomed. His characters always seem to be incredibly awkward, but then they also have a dry sense of humor that is enjoyable to watch. He may be the co-worker I look forward to seeing the most.
Howard: This app is a lot like Tindr.
Lydia: No. It is not like Tindr. They swipe. We tap. You see a person you like and you 'tap' that.
In both episodes, so far, there has been one consistency I have noticed about the series. It uses a lot of social media. Stephie was cyber stalking Andrew's date, Andrew was using a GPS app to follow Zelda, and Zelda identified a song using an app last week. Social media was all over the place.
Sure, social media is a constant in our lives and in the dating world, but I think the show is proving that point a little too much. Let's just hope they slow down on the amount it is used in a single episode.
Another part I enjoyed was how Katey Segal is used as the Narrator. Though, for most of the time she speaks very robotically, out of nowhere, she just told it like it is as Andrew and Zelda endured their painful small talk.
For 18 minutes, they small talk. Discussing the most inane crap you can imagine.

Narrator
It's fun to hear a narrator who is doing more than just narrating, but also sharing their own commentary about what is happening on screen.
A to Z is such an underrated new comedy. The characters are fun and I'm liking the relationship of the characters. I just hope that has Andrew and Zelda become exclusive, that the show will keep its charm that it has had so far.
Which character are you enjoying the most? What social media element will the show use next? Should the co-workers integrate more into Andrew and Zelda's life?
If you want to check out the first episodes of this show, make sure that you watch A to Z online via TV Fanatic.
Mary Kate Venedam is a staff writer for TV Fanatic. Follow her on Twitter and on Google+.