Awkward Season 4 Episode 13 Review: Welcome to Hell
Nick McHatton at . Updated at .
Jenna held the future in her hands as she read her rejection email from SCU in Awkward Season 4 Episode 13.
The college admission or rejection letter is very much a right of passage. I too remember getting my first few rounds of rejection letters from schools, and wondering how on Earth things could get better when things felt so terrible.
Jenna is in this same emotional quagmire, she wants to move on to her next chapter, she sees her peers getting acceptance letters, and then she is saddled with her rejection letter.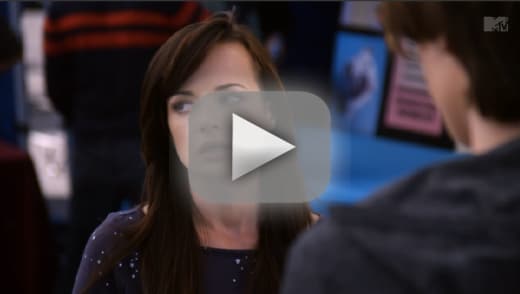 It's hard to believe considering how hard she worked and how well of an interview she gave to SCU.
But rejection happens, and part of life is learning how to accept and learn from it….which Jenna eventually did after she berated close to everyone she knows. No one was safe, not even new, nice guy Owen.
Speaking of nice guy Owen, he's still very much good and bad. On the good side, it's nice to see Jenna continue to test waters other than Matty McKibben, learn more about what she might want, and not get too hung up on whether or not she needs to win Matty back romantically. On the bad side, this could be another #TeamJake situation all over again: the nice guy gets steam rolled by her because nothing can stand in the way of the love she and Matty share.
Again, it is the side stories that make Awkward fun right now. Lissa and Tyler's growing romance continues to make Lissa question her faith and feel immense guilt at the same time. Lissa loves Tyler, they're not really brother and sister, and Sadie does command her apostles and followers with surprising authority while rocking her Jesus-stache.
Let's not forget that Lissa's Dad gets his happy ending too by attending conversion therapy in the arms of men.
Jake's MILF drama follows him from New Year's Eve to the fair at school. What started as a one night drunken stand has turned into a full blown Julie Cooper-Luke Ward from The OC "please defrag my hard drive" situation.
To catch up on Jenna's college application experience, you can watch Awkward online right here at TV Fanatic to relive every detail.
In the meantime, what did you think of Owen and Jenna locking lips for a second time? Are Jenna and Matty doomed before they even get started? Most important, however, is when is Sergio coming back?