Awkward Season 4 Episode 14 Review: Bonfire of the Vanities
Nick McHatton at . Updated at .
One phone book down, and one Dude Database is set up.
When one hate rating tool goes down in flames, another crops up in Awkward Season 4 Episode 14.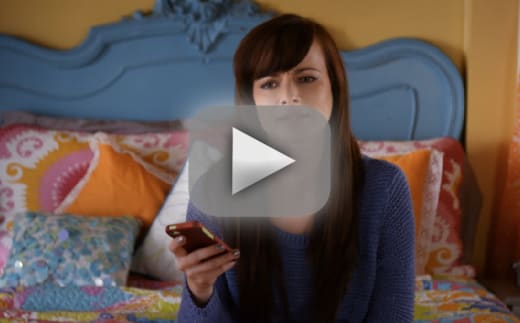 Love is in the air all over Palos, and some have it stronger than others. The strongest of the installment are Sergio and Sadie. While Jenna is the main protagonist of the series, oftentimes there's some wish fulfillment on my part to see a little more of Sadie and the rest of Jenna's friends over Jenna herself.
Sadie has good taste to begin with once Ricky Schwartz died, she's not going after Colin or one of the mean jocks, and she tends towards the nice ones. Her relationship with Austin is nice and sweet, and Sergio's continual perusal of her is similar. Instead of hurrying to get with her and trying to rate Sadie in the phone book as quickly as possible, Sergio wants to prove that he's not like the jerk jocks at Palos.
Jenna and Owen do end up sleeping together, and Jenna gets to here a song Owen wrote about their first time together and his first actual time. Now, not only is Jenna now having sex beneath her class, but now she's taking flowers too.
Jenna doesn't have too much time to let that idea stick with her because of the phone book. Matty's decision to code her those years ago, and later brushing it off as "well, that was a secret hookup then" is pretty low. I'd thought Matty had matured a bit, but it's clear that he still has a ways to go.
Only a reality check from Jake puts it in perspective from him, and, naturally, one good deed from Matty – his phone book burning – is enough to make Jenna rethink everything. It's unfortunate that Jenna continues to run back to Matty over all the other nice guys in her life. Matty has his qualities, but it's time for Jenna to make her mind up about Matty. Either she wants to be with him or not, and she can't keep stringing Owen or anyone else along.
Are you excited to see the Dude Database explode? Watch as Val finds love with Will (or just some making out with a man in a mascot mask?) Or are you wishing to watch a little bit of Awkward history? Whatever the case be sure to watch Awkward online right here at TV Fanatic!