Awkward Season 4 Episode 17 Review: The New Sex Deal
Nick McHatton at . Updated at .
It's a brand new deal for Jenna and her sex-starved peers at Palos High on Awkward Season 4 Episode 17.
Jenna, still dealing with the aftermath of outing herself as one of the Dude Database admins, is trying too hard to win the love of the high school back. Jenna usually prides herself on being one of the invisible people at the school, yet she works overtime and drops a large bundle of cash on renting a party bus that doesn't even remotely pan out.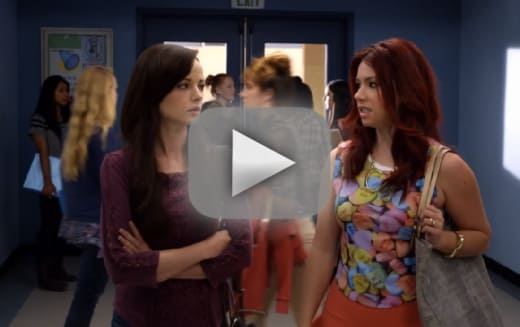 It's yet another reminder of just how far the show has backtracked from Jenna's realization at the end of Awkward Season 3. A girl more focused on figuring out what she wants out of life, and less time worrying about whether she'll be with Matty. Jenna discovered that she was the key to her own happiness and she did not need a letter, Matty, Jake, or anything else define who she wanted to be yet.
Now, as Awkward Season 4 is winding down to its season finale, Jenna's epiphany is just phony. Every single moment we're with Jenna we're in a constant battle of watching her pine for Matty and want to do whatever she can to win him back. Only to be losing him in the process. The smart, self-aware young woman has been devolved into something completely unrecognizable.
Thankfully, the Season 4 slaughter mostly begins and ends with Jenna's character. Tamara starts to get back to her old self, and Jake too gets back to what he used to be by ditching his guitar and his no effort look for something a little more familiar. While the return of Jakara may or may not happen, at least Tamara finally got what she was lacking the first time around with Jake. Although Tamara would still make an awesome Lesbian if she ever did decide to go back to kissing a girl and liking it.
Matty too is in a better place than Jenna. He's willing to take his time with Gabi and treat her right. Letting her make the calls and decide when she's ready. He wants to wait for her. It's a big step in maturity from the sophomore he was back with Jenna. Jenna's point of view is understandable, that Gabi is the girl to wait for and Jenna is the girl that Matty did in secret.
Is Jenna a shell of her former, season 3 self? Is Jenna's point of view about Matty and Gabi on point? Are Jake and Tamara reconfirming their relationship status? Should Lissa be on Molly more often? No matter what you're looking forward to most, you can always watch Awkward online right here at TV Fanatic.