Bad Judge Season 1 Episode 1 Review: What's Your Verdict?
Paul Dailly at . Updated at .
Rebecca Wright is a very Bad Judge, but is she a funny one?
The trailers made the show look good (that's their job), but based on the stuff I was hearing about it, I didn't expect to enjoy it -- but I did!
On Bad Judge Season 1 Episode 1, we are introduced to Rebecca Wright. She is convincingly played by Kate Walsh of Greys Anatomy and Private Practice fame.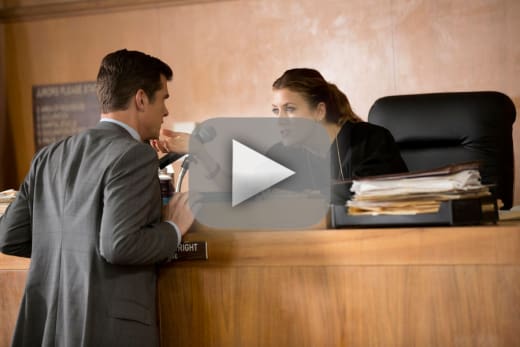 Rebecca is not perfect. She's not even in the same zip code as perfect!
The laughs were definitely present in this opening episode. All of her antics played a part, from waking up in the most awkward position ever to drinking wine in a store while buying a pregnancy test. This is one crazy judge!
Be glad that's negative, I am.

Rebecca
Robbie was a really interesting character. The witty exchanges between he and Rebecca were excellent. It was comical how Rebecca was the judge that sent his parents to jail, but he leaned on her for help. It just didn't seem like she would care, but she did; begrudgingly.
The class room scene in which Robbie had drawn a penis on the teachers head made me chuckle. Rebecca's reaction really worked as she kept implying that Robbie was a good boy, while the teacher tried to prove otherwise. I couldn't believe she burped in the classroom, but it showed us how childish she really is. I don't think she necessarily intends to be like this; it just happens. 
I'm serious, I will cut you.

Rebecca
It was really obvious that Rebecca was sleeping with Garry upon his entrance to the courtroom. The way they both looked awkwardly at each other confirmed it, and choosing Ryan Hansen for Garry was an inspired choice as the actor excels in comedic roles. I loved when Rebecca told him that it was his hickey on her neck, right before lying and telling puzzled onlookers she was singing a song. 
I didn't particularly enjoy the courtroom portions of the episode, they just weren't funny. Rebecca's life outside the courtroom holds more interest for me.
Rebecca: Really, Tom he's got no priors - you really wanna do this?
Tom: Yeah, I really wanna do this!

As stated above the cast really works for the show. I only hope that we see more of Robbie in the coming episodes. It will be wonderful to see more of Garry also. Apart from them, the rest of the cast never got a lot to work with this week, so I'll reserve my views on them until next week. 
Did you like the show? What was the funniest part? Sound off below!
Paul Dailly is the Associate Editor for TV Fanatic. Follow him on Twitter.