Bad Judge Season 1 Episode 3 Review: One Brave Waitress
Paul Dailly at . Updated at .
Bad Judge continued with another laugh challenged installment tonight.
On Bad Judge Season 1 Episode 3, Rebecca attempts to judge a man who runs a seedy restaurant, who is tried with nine misdemeanor charges.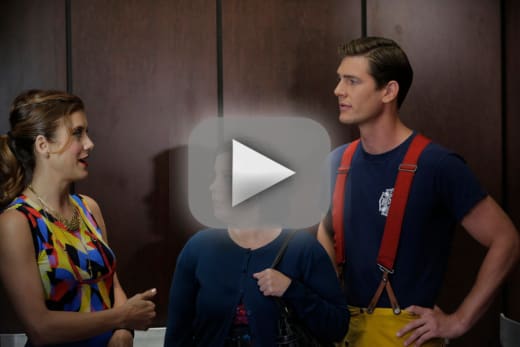 Three episodes in and I feel like Bad Judge won't even last the full season. It boggles my mind as to who actually commissioned this series in the first place. There just isn't a lot to like about it.
Kate Walsh is a fantastic actress who is being wasted on this show. I know she said she wanted to try out comedy, but she could do much better than this. I never laughed once throughout the whole episode. I did smile at the scene in the lift when the woman said she could sit in the corner and sing a Drake song.
All of the courtroom scenes were yet again unbearable. The fact that the writers portrayed the accused's lawyer as a whore who used her looks to sway opinions further annoyed me. This wouldn't happen in real life. I understand the show is trying to be a crazy and comical look into Rebecca's life, but if a lawyer was like that in real life, she wouldn't be employed for very long.
I hated when the lawyer told all the women on the judging panel to go home. It obviously threw a wrench in her client's defense from the get go.
Could any of you give a legitimate reason as to why you can't be here?

Rebecca
Billy returned this week, but Rebecca was avoiding him as she just wanted to have a fling with him rather than let things get serious. It took Rebecca the whole episode to tell him this and he actually showed up at her work to confront her. 
There was no Garry this week. I had a look at the cast list and it and he does appear to be a series regular. The people behind this show are missing a trick- Garry is hilarious.
Another scene I found myself hating was the opening, when Rebecca was attempting to knock out Billy, and she succeeded just as he was asking her to go to the firemen's ball. 
In all, Bad Judge is not a good show. There are no redeeming qualities at the moment. Kate Walsh's acting is about the only thing to like about this show, besides of course, Garry. The show is such a chore to watch and it feels like the half hour drags on. Unless there is a prompt increase in quality, the series will be sentenced to the big TV show heaven in the sky. 
Remember you can watch Bad Judge online, right here on TV Fanatic if you missed any of the laughs (or lack thereof).
Paul Dailly is the Associate Editor for TV Fanatic. Follow him on Twitter.