Black-ish Season 1 Episode 6 Review: The Prank King

Stacy Glanzman at . Updated at .
Holiday-themed episodes on television are usually a pretty good time, and black-ish Season 1 Episode 6 was no exception. I didn't think this one was as strong as the last couple of episodes have been, but it was still enjoyable. 
I could see this becoming a black-ish annual tradition if the show lasts past this season (and my guess is it will). Perhaps fans can look forward to future Halloween episodes with even more elaborate costumes and bigger, crazier pranks as the seasons continue.
I have to be honest though, if this is going to become a Johnson family tradition, the episodes would have to get a lot better to come close to the quality of another family of pranksters-the Conners. Roseanne's Halloween episodes were some of the best of the series.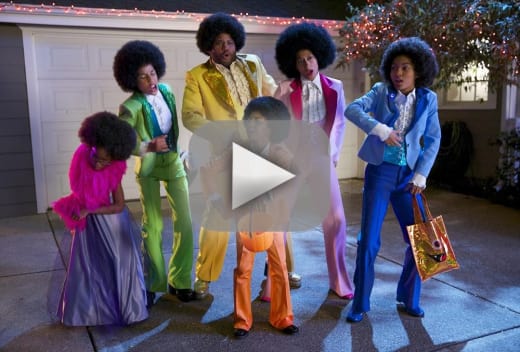 Did anyone guess that Zoey's newfound disinterest in Halloween was all part of a bigger prank?  I didn't, though I did get a little suspicious when the twins announced they didn't want candy for fear of losing a foot to diabetes. My uncle actually did lose a foot to diabetes, but that didn't stop me from eating candy as a kid (or now for that matter). 
I was a little disappointed that the family's awesome prank on Dre was outdone by him (and Josh). I think it would have been better if Rainbow and the kids succeeded at dethroning the "prank king." It could have been an opportunity for him to spend the next year plotting his way back to the top a la Brooklyn Nine-Nine Season 2 Episode 4. 
Oh well, instead Rainbow and the kids are the ones who have to try again next year. Making Dre realize his biggest fear that they're growing up will be tough to beat though. 
Charlie returned this week and while I'm still not his biggest fan, he is definitely better in small doses. It was pretty funny watching him and Dre try to come up with a black person neither of them had ever met, but it was still surprising Dre let him back into his house after the last time he was there. 
My biggest complaint of the episode is the lack of Pops. A whole episode of the family pulling pranks on each other and Pops is nowhere to be seen? Major missed opportunity, black-ish. 
Final thoughts, those Jackson 5 costumes were awesome. Props to the costume department on those! If the Beatles were the back up though, wouldn't the Sergeant Pepper outfits have been better than the mop tops? The twins would have looked adorable in suits though. 
What did you think of the episode? Did you miss Pops as much as I did? Do you want to see more or less of Charlie? Don't forget you can watch black-ish online and check out your favorite lines of the night on the black-ish quotes page.
Stacy Glanzman was a staff writer for TV Fanatic. She retired in March, 2019.