Boardwalk Empire Season 5 Episode 6 Review: Headin' for a Showdown

Chris O'Hara at . Updated at .
Chalky and Daughter's reunion got things started this week on Boardwalk Empire Season 5 Episode 6.
The big question at the end of the previous hour was if the little girl sleeping on the couch was his.
Daughter: She's not his.
Chalky: Then whose?
Daughter: Just mine.
Also perplexing Chalky was why Daughter would return to Narcisse. She had taken a job as a maid to provide for her and her daughter Althea because her singing career had been frozen thanks to being blacklisted by Narcisse.
She had returned to ask Narcisse to relinquish his hold on her.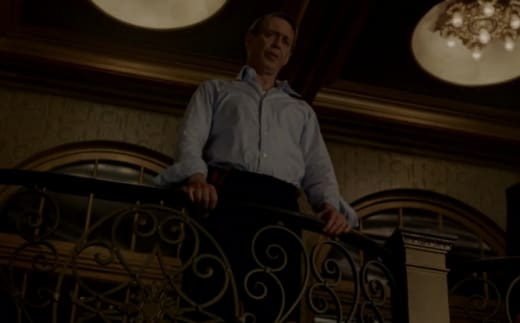 Chalky had come to Harlem to kill Narcisse. Staring death in the face, Narcisse offered Chalky a partnership. After asking Althea about her father, Chalky seemed to realize that she was in fact his daughter. So instead of revenge, he agreed to take Narcisse's deal to secure Daughter and Althea's freedom.
I don't think Chalky believed for a moment that he was going to walk out of that meeting a free man, but he made his peace with the world in the end by exchanging his life for Daughter's and their child. This would be the closest thing he could get to making up for the loss of his other daughter.
As he closed his eyes, he could hear Daughter singing in his head. No longer having to imagine its sound like he had the last seven years. He had made his peace, but moments before Narcisse's men fired their guns, Chalky took one last shot at Narcisse's ego.
All a dream to begin with. Ain't nobody ever been free.

Chalky
Narcisse walked away with his life, but Chalky had his final say before we said goodbye to one of the most beloved characters in this show's epic run.
Another major player met his end this week as fans also witnessed the murder of Van Alden.  In keeping with the theme of no one goes quietly, with his back to the wall, Van Alden lunged out at Capone.  As he choked the crime boss he confessed to his real identity, before being shot by Agent Mike D'Angelo.
Van Alden lost his life, but his final outburst left Capone shaken. Van Alden's final act ultimately would have a hand in bringing Capone down and helping justice prevail. Consumed with panic, Capone ordered Ralph to give the ledgers to D'Angelo for safe keeping. A move which will end up being his downfall.
Back in 1897 we saw Deputy Nucky trying to make his way in life. While making his rounds on the boardwalk, Nucky saw Leander and a mother ushering a young girl up the hotel's steps to be greeted by the Commodore. Despite all his efforts, Nucky still could not gain the respect or favor of the Commodore, but Nucky seemed to be aware of the Commodore's despicable penchant. In meeting the young Gillian it began to become apparent just how Nucky ingratiated himself with the Commodore.
As Nucky came to after his mugging in the alley, he was blurting out something about someone trusting him. Perhaps his bringing Gillian before the Commodore all those years ago, still weighs heavily on Nucky's conscience. The memory brought forward again as he was filled with grief over the loss of Sally.
Nucky seems consumed by the past, but there are those who are maneuvering to see to it that his has no future. Thankfully he still has Mickey, who rallied the troops to take the offensive.
With just two episodes left, it won't be long before we see the moment Nucky offered up young Gillian to secure his place in life. A move he seems destined to answer for by the end of the season. If his end comes at the hands of Charlie and Meyer, will he be able to close his eyes with the same content feeling Chalky did? Will relief be the last thing he feels before he dies?