You know what I loved about Bones Season 10 Episode 4?
It focused on the main characters and their everyday lives and personalities, and it reminded why I care about these characters so much.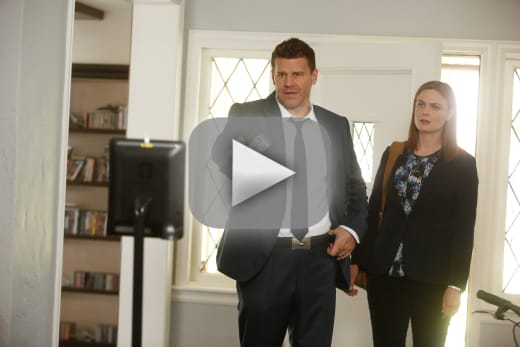 We get a sweet, fun moment with Booth, Brennan, and their completely adorable daughter, Christine at the beginning of the episode. While Brennan is researching schools (my, how quickly this little girl has grown), Booth tries to get Christine to eat her breakfast. Christine refuses, using her own mother's logic as an excuse.
Booth: Come on Christine, if you want to be a big girl, you gotta eat your breakfast. It's good for you.
Christine: Mommy says size is determined genetically.
I'm so glad that we got to see a little more of their daughter -- and their family life. How perfect and normal for a family to just eat breakfast together before they start their day, especially with the child refusing to eat. But she's her mother's daughter, it seems. I think it will be interesting as we see Christine continue to grow. Even before she begins kindergarten, she's willing to eat her breakfast not at her father's pleas, but at her mother's scientific explanation of what vitamins will do for her body.
In an interview with David Boreanaz and Emily Deschanel, the actress mentioned this episode specifically when comparing her own parenting to that of Temperance Brennan. Of course, Brennan is going to be picky about where her daughter goes to school, and she's going to want to make the decision based on an abundance of research. Booth, on the other hand, leans toward public school, and we're reminded how differently the two of them see the world.
The case this week offered perhaps even more of an emotional breather than last week with Bones Season 10 Episode 3. The entire case revolved around the creation and testing of video games, and the "geeks" who were immersed in that world. I found myself less concerned with the case itself, and more with the fun moments that it allowed the characters to have.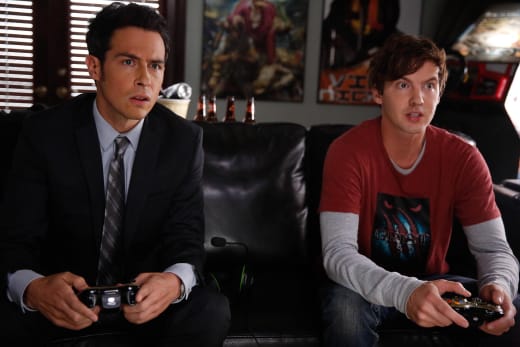 For starters, Hodgins and squintern Jessica Warren created an elaborate experiment involving test dummies and pool that even Angela and Cam couldn't resist being a part of. The only thing missing from this scene was Booth. He used to be around the lab a lot more often, and now he seems to be much more separated from that world.
We are also asked to like James Aubrey just a little more when we see his reactions to the video game creation. And there is a bit of a bonding moment when Booth and Aubrey body slam a video game actor who doesn't comprehend that they are "real" FBI agents.


Booth: Look at that. We restrained a manotaur.
Aubrey: Ah, minotaur.
Booth: Whatever.
I have to say, I like Aubrey more and more each week. Granted, I do think this week made a misstep in neglected to deal with Booth's trust issues. Not that this is something we should be beaten over the head with, but even just a few slight hesitations on Booth's part might have made things more believable.
Thank goodness for the scene with Brennan and Angela in the park. It has been far too long since they have had a decent conversation that reminded us they are, in fact, best friends. Though the conversations are a little different than what they used to be.
Brennan: It's nice spending time together, just us. Like we used to.
Angela: Yep. Except now we're talking about daycare rather than sex.
Brennan: I had extremely satisfying sex last night, actually. It began in the tub.
And to have Brennan and Angela in the park watching their children play is a normal, real moment that I truly appreciated. It's even better when we see how differently they speak to their children, with Brennan telling Christine to be careful of her "center of gravity" and Angela threatening not to feed Michael Vincent.
The squintern of the week this week is Jessica Warren. She's truthfully one of the most dynamic interns we've seen in a while, especially after we learn more about her in this episode. She is feisty and quick to stand up to Brennan, refusing to be seen as anything other than an equal. No, she isn't the first intern to stand up to Brennan, but she is the first female intern to so in such a confident way.
But she has also had a pretty interesting life, which including growing up in an "educational cooperative" that is now being disbanded. A discussion of this helps Brennan to realize that she needs to be more open minded -- which is ultimately the theme of this episode (I'll get to that in a second).
It also lays the groundwork for Warren's friendship with Angela and Hodgins. Hodgins tries throughout the episode to ask how she is coping with losing her cooperative -- her home. She insists that everything is fine until the end of the episode, when she is finally brought to tears. Angela and Hodgins insist that she come home with them, and it reminds me a little of when Booth and Brennan "adopted" Sweets when he was going through his own emotional turmoil.
As I said, the theme of this episode is Brennan and her need to become more open minded. Mostly, this is about choosing a school for Christine. She wants what is best for her daughter, and after her discussion with Jessica Warren she realizes she may need to consider options outside of her detailed research.
Surprisingly, Brennan chooses to leave the decision to Booth. And that may even result in Christine attending public school (gasp!). This is a nice moment for her character, which is slowly but surely evolving. And it's important for her relationship with Booth, too.
And speaking of open-minded, we may not get to see it happen, but we know that the episode ends with sex in the bathtub. Brennan even says this is something she wouldn't have considered before, and Booth does a happy dance and grabs his beer helmet.
I'm thankful for those lighthearted moments that bring us back to their relationship. And it's also a nice touch that they bring back Booth's bathtub beer helmet, something we saw very early in the series.
Can't wait until the next episode? No problem! You can always watch Bones online via TV Fanatic!
Ashley Bissette Sumerel was a staff writer for TV Fanatic. She retired in September 2017. Follow her on Twitter and on Google+.