When Abby Smith, an internet blogger on Snapomatic is killed in her own home in Castle Season 7 Episode 5, it's up to Castle, Beckett and the team at the 12th to track down the killer. 
The killer begins posting photos as clues that will lead to his next victim but the team deciphers them too late and Cam, an internet celebrity with the title of spoiled brat ends up with his throat slit in his Rolls Royce.
When the next photo is one of Castle and Becket smiling over coffee, the killer manages to make it appear that they aren't taking this case very seriously and the powers that be at 1PP headquarters consider pulling Beckett from the case. 
Thankfully, Capt. Gates has her back but it's a former cyber cop who helps lead the team to Adam Lane, a guy who was bullied in high school and had humiliating videos of himself passed around. Even though the video was taken down, no one was ever prosecuted. Now Adam is taking his revenge out against those enjoying fame on social media. But when he threatens the lives of the creators of Snapomatic, can Beckett break Adam in time to save them?
Watch Castle online any time here at TV Fanatic.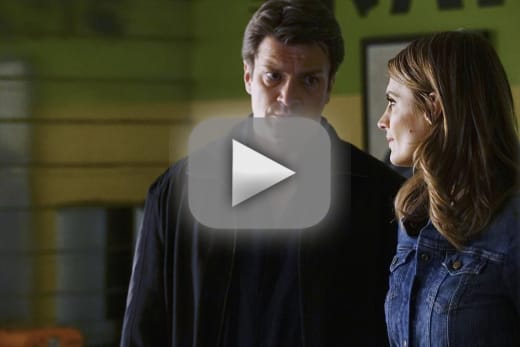 C. Orlando is a TV Fanatic Staff Writer. Follow her on Twitter.