Alright, who's ready to discuss Chicago Fire Season 3 Episode 6? Let's do this!
This week, we're judging Casey, giving our thoughts on the growing friendship between Severide and Brett and preparing ourselves for the big crossover event between Chicago PD and Law & Order: SVU. 
TV Fanatic staff writers Maggie Fremont, Stacy Glanzman and Bridget Liszewski are joined by TV Fanatic super fan Sarah Silva below. See what they have to say below and then add your thoughts in the comments section...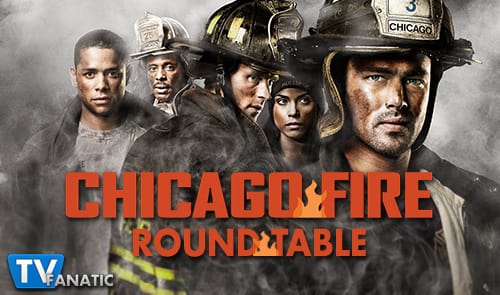 What do you think of Casey's actions regarding his sister? Will he regret anything that he did, or will it come back to bite him at all?
Maggie: I loved watching Casey get all fired up (pun intended) when he saw his sister and niece getting a raw deal. Casey has always been fiercely loyal to those he loves, so, no, I don't think he'll regret taking care of his family by any means necessary.
Stacy: Casey is a take action kind of guy and there was no way he was going to just let his sister accept the settlement without more of a fight. It's hard to say if this will come back to bite him later, but they wrapped up the story line nicely so I hope they leave it at that.
Sarah: I think Casey did what any brother would do, he was looking out for his sister and niece. I do not see it coming back to bite him, Jay knows that if he tries anything else that Casey will go to the cops and tell them where his girlfriend is.
Bridget: I have to admit, I was holding my breath a bit all episode hoping Casey didn't overstep and do something stupid. He may have went a little too far getting Newhouse to investigate the mistress, despite the fact Christie just wanted to settle, but in the end everything worked out for the best. Just as he does in the Firehouse, Casey will always fiercly protect his family and those close to him.
Are you a fan of Severide's growing friendship with Brett? Or do you agree with those fans who think she's just a cheap replacement for Shay?
​Maggie: Just because this chick is blonde doesn't mean she's only serving as a replacement for Shay. I miss Shay as much as the next person, but I'm also enjoying what Chicago Fire is doing with Brett. I find Brett super relatable, and it's nice to view the Firehouse from the eyes of an outsider. I just hope that this friendship doesn't grow into a romance - I like them as friends.
Stacy: I loved Severide and Shay's relationship and they were my favorite characters (Severide still is). That being said, I don't hate Brett. They've done a good job making her a likable character and she's nothing like Shay, which helps. Honestly it was great just to see Severide happy and sober this week.
Sarah: I am not a fan of Brett's. However Severide lost his closest friend, and if he can forge a close friendship with Brett, then that will be good for him. Just please do not make it romantic.
Bridget: On the surface it'd be very easy to call her a poor man's Shay. I think there's more layers to the Brett onion than we've been exposed to, and I enjoy her friendship with Kelly very much. I think it fills a void for each of them. I do share the same concerns as the others, please don't have them get involved romantically.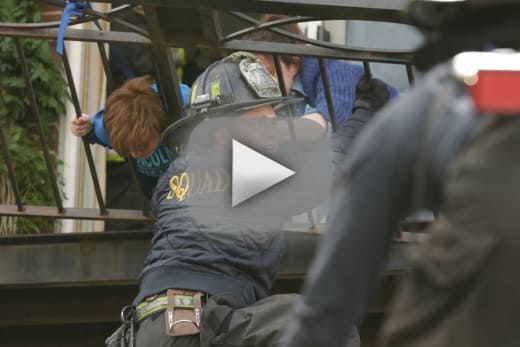 What do you make of the girl making out with Severide to end the episode? Any thoughts on what that is all about?
​Maggie: Serinda Swan for the win! I'm excited to see her go head-to-head with Taylor Kinney and looking forward to watching this play out. They've been hinting that Swan's character will also be dealing with some big loss, so I think she'll end up being the help Severide needs to move past his grief. For now though, I'll just enjoy the hot hook up.
Stacy: It's Paige from Graceland! That whole thing was really weird and I'm not really sure where that's going to go. Is she going to come back to Chicago with him? I just hope she doesn't cause a setback for Severide who seems to finally be recovering.
Sarah: I am going on the record right now and say that Severide will come back married! If that happens, will it end in disaster? Only time will tell.
Bridget: Severide continues his downward spiral. While he's been pretty good about not letting his personal issues interfere with work, he definitely continues down a worrisome path. I think this girl will just be another complication on his road to hitting rock bottom. Then he'll be able to pick himself back up again. That being said, I definitely share Maggie's enthusiasm for Swan joining the cast, and can't wait to see how this plays out.
Newhouse seems to be in trouble from his side business as a P.I. Do you think that'll cause him problems at the Station and his position there?
​Maggie:  I don't think it'll cause him problems with his job at Firehouse 51. I'm sure the gang will rally around him. They're a family and they always take care of their own, no matter what the person is getting involved in.
Stacy: When he went out to his car I knew something was going to happen and it still made me jump. Yeah, it does seem like this could lead to some major problems, and he's got Mills involved with it too.
Sarah: Good question! He has done a pretty good job of keeping it separate, but his side business is dangerous, and I am sure more people will come after him.
Bridget: As each week goes by, Newhouse's side business seems to get more and more complicated. Given the fact that he now has Mills involved, and others are asking to join in, I can only assume the trouble will cross over and cause issues at the station. Here's hoping that everyone makes it out ok, and that the beating Newhouse got this week from a disgruntled mark will be as bad as things get.
The big crossover event with Chicago P.D. and Law & Order: SVU is coming up next. What do you like or dislike about these events? Who are you most looking forward to seeing?
​Maggie: Admittedly, I don't watch SVU and only casually watch P.D., but I enjoy crossovers like this solely for what they mean for the storytelling. I think it's fun to be reminded how vast these worlds are and that their characters exist together. I like when shows stretch outside their bubble. My favorites from P.D. are Lindsay and Ruzek, so I hope they both pop up over on Chicago Fire. Can't wait to see how they pull this off!
Stacy: I like all three shows so I'm looking forward to it. I'm not exactly sure why the NYPD SVU would need to come to Chicago, but I'm willing to let that go. I'm looking forward to seeing Benson and Voight butt heads, that should be pretty entertaining.
Sarah: I enjoy crossover events, however I do not watch SVU, so I do not know the characters. However, of course I will tune in, and I am looking forward to seeing Lindsay and Halstead on SVU.
Bridget: In the past these shows have handled crossovers really well, and I have no doubt that will continue here. It's always fun to see actors from different shows interact. Chicago Fire and Chicago P.D. regularly have their characters come in and out of each other's shows, and this is just another way to further that continuity. I stopped watching Law & Order: SVU years ago, so I'm probably most excited to see Mariska Hargitay, and if she gets to interact with Sophia Bush, all the better in my opinion!
Can't wait until the crossover event? Don't forget that you can always Watch Chicago Fire online via TV Fanatic!
Bridget Liszewski is a staff writer for TV Fanatic. Follow her on Twitter.