This long-awaited season Criminal Minds premiere introduced the newest member of the BAU: SSA Kate Callahan, played by Jennifer Love Hewitt.
In addition, we were introduced to what appears to be a multi-episode arc, involving the abduction and sale of women.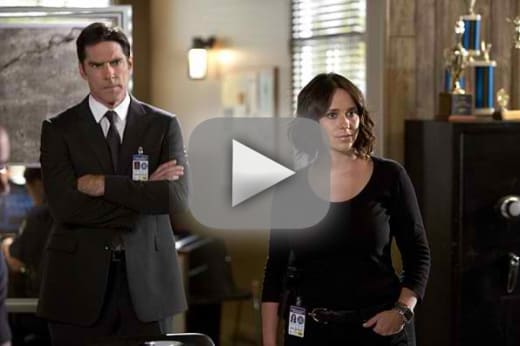 Criminal Minds Season 10 Episode 1 began with the discovery of the torso of a body in an abandoned cabin. Right after Callahan joins the team, the BAU are off to Bakersfield California to investigate that body part, which is the third such torso found in a short time.
The creepy factor for this episode was high - which is to be expected in an optimal episode of Criminal Minds. And, of course, Kate has asked the one question that many of us have asked over the years: how do they deal with the horrors of the job at the end of the day?
Clearly, Garcia isn't handling it well at all, as her limited sleep habits have proven. And despite Hotch's assurance that he lets the case go after it's solved, you get the sense that he often struggles with it too. He even said as much.
Still, the team makes a solid effort to concentrate on some of the more positive sides of life when they can. Garcia certainly does anyway, and we clearly saw how Callahan does as well: with that little interlude between her and Garcia. As the saying goes, "sometimes you just have to laugh, just so you don't cry".
It looks as though Callahan is going to be a great fit for the team. Hotch hired her after interviewing her for only a couple of minutes (and after first interviewing nine other candidates). Garcia knew her from before and Morgan has taken a shine to her already too.
None of this great initial chemistry comes by accident either. The producers saw how Blake was received last season and they learned from it - as you'll see when you read TV Fanatic Editor Jim Halterman's intriguing interview with Criminal Minds showrunner Erica Messer.
Getting back to the case....
I always admire stories involving victims who decide to be brave by figuring out what makes their attackers tick - and this plot provided a good example of that. You have to imagine that most people, after getting a limb chopped off, would probably fall to pieces (no pun intended) and be useless in their fight to stay alive. 
This victim instead pulled herself together (again, no pun intended) and found a strategic way to get past the Unsub's defenses. That takes guts.
The way the story delved into a swamp of ugliness was fairly key as well: in addition to the guy who chopped up women, we had the fetishist who enjoyed just being around severed limbs. And, finally, we had the multiple creeps who were looking at abducted women for sale online. This is vintage Criminal Minds stuff.
I agree with Hotch: given Kate's history in hunting down such animals in their native habitat, as it were, she not only has the expertise necessary to catch them, but understands them from her undercover point of view.
This is shaping up to be a great season.
What do you think? Did you enjoy this premiere episode? Will Garcia ever get a good night's sleep? Tune in, watch Criminal Minds online, and let us know your thoughts.
Douglas Wolfe was a staff writer for TV Fanatic. He retired in 2016. Follow him on Twitter
.