Elementary Stars Tease Season 3 Changes, Addition Of Kitty & More
Jim Halterman at . Updated at .
If Holmes and Watson aren't together, is there still an Elementary?
Thankfully, we won't have to find out: even though our two favorite crime solvers separated at the end of Elementary Season 2, fans need not worry about them being apart for too long on Elementary Season 3, which kicks off tonight.
In fact, we'll find that Holmes and MI6 didn't exactly work out and that six-to-eight months have passed since then. In this time, Sherlock has taken on a new protégé, Kitty Winter, played by Ophelia Lovibond.
Once Holmes and Watson are reunited, what is their relationship like? And what is the relationship between Holmes and Kitty? More importantly, will Watson embrace Kitty or feel threatened or (gasp!) jealous?
To find out, I sat down with stars Lucy Liu and Jonny Lee Miller at New York Comic Con to get the scoop about the new season and what we'll see with the new episodes.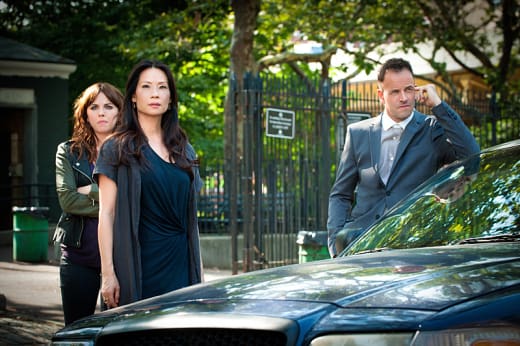 TV Fanatic: Going into a third season, what's your process outside of just getting your hands on the script? Do you each have a process?
Jonny Lee Miller: At this stage…it's funny, you go into hiatus and you have two months and you think, I totally forgot how to do that, but you don't. Having played it for two years already it's become part of you, almost too much sometimes. And so the process is really script-based and story-based and then everything else takes care of itself. I mean, we spent inordinate amount of time on those sets and at work and with each other that it's really fascinating experience to sort of live inside a character like that really an experience in that way, unique really.
TVF: We start the season with Joan in a different place than what we've seen her.
Lucy Liu: Yeah, I think the reveal of Sherlock is really wonderful when he shows up because it's sort of classic.You see her on her own and then this guy shows up and it's sort of the whole screen lights up. I really do feel that way and I like that. I've been on shows before where you build a dynamic between the cast and the crew but then it's sort of over. And for some reason because it's just really the four of us and the two of us are really on all the time, it feels like a much more intensive experience then let's say Southland even, even though that was really intense, you're following different characters at all times. And with us you're really following us all the time.
So it's true, when you come back there is this…it's not a comfort level but there's this ease that you can sort of slip back into something because you know the crew, because you know where you're even going to be in the dressing room and you know what your trailer is so that helps you to sort of focus and expand your own character. And I think that level of environmental comfort is a really great way to sort of start any season. And to come back and do season three is really wonderful. And you know that the network and the studio is really behind the show so it's a really good feeling.
TVF: Kitty's coming in as a protégé but will each of your characters also learn things from her or is it really just the mentor/mentee kind of thing?
JLM: Yeah, that's an interesting question actually because, yeah, I think Sherlock's trying to be a mentor and teach her and expand himself, make himself feel better for having disappeared and made the wrong decisions as far as his relationship with Watson goes. And being quite selfish and I think he does start to learn some things from her, yeah.
TVF: How about Joan because she and Kitty start out as a little adversarial…?
LL: Definitely a little adversarial, I think there's always something to be learned and I think also when you are in this space where you are a little bit taken off your regular day, let's say, by being followed or whatnot, it also charges you to sort of look at yourself a little bit even if you're reacting negatively towards someone. It sort of charges your whole day. You're being charged on something that you're not normally charged on I think. So it's going to force her to sort of review her actions especially from her psychological point of view..
TVF: As a viewer right away I want to know what happened in that time during the six to eight months that he wasn't there and that we don't get to see in the premiere. Do you think we'll get to explore that?
JLM: Maybe, I'm not so sure. I think so far we haven't and I like that the Secret Intelligence Service remains a secret. I think it's good.
TVF: What will we see with Watson and Holmes and their relationship moving forward in the season?
LL: I think what's happening is at the end of [the premiere], Watson's trying to take control of the situation a little bit more so she can feel a little more comfort and a little more stability. She's trying set some goals for [Holmes] so she can feel better about herself, you know what I mean? Because she felt out of control when he left and I think now she's like, 'okay, this is what's going to happen now,' you know what I mean? She's giving herself distance but she's also opening the door for him a bit. 
Elementary Season 3 premiere tonight at 10/9c on CBS. 
Jim Halterman is the West Coast Editor of TV Fanatic and the owner of JimHalterman.com. Follow him on Twitter.