Gossip Girl Season 2 Episode 18 Rewatch: The Age of Dissonance
Leigh Raines at .
On Gossip Girl Season 2 Episode 18, Constance Billard and St. Jude's team up for the senior play. Of course, the behind the scenes drama is far more juicy that what's happening on stage.
There's also a new Gossip Girl tattle tale on the loose...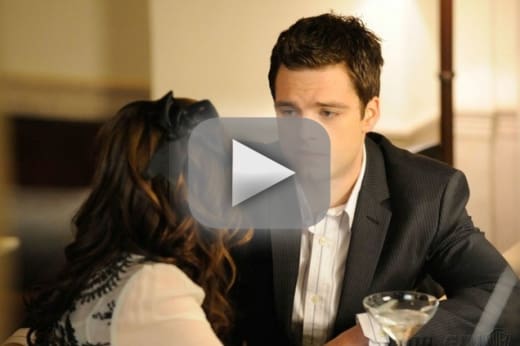 I've actually always loved this episode and the first reason I will give you is the outfit above. One my all time favorite Blair Waldorf moments was when she was sitting downtrodden at the King Cole Bar at the St. Regis and Carter Baizen came to her rescue. Or to her downfall, however you prefer to see it. 
Carter: Hello, beautiful.
Blair: Carter, what are you doing here?
Carter: Buying you a drink.
I guess there was a slight reason for Chuck Bass's weird Eyes Wide Shut experience in Gossip Girl Season 2 Episode 17. It tied into bringing Carter Baizen back for his little arc with Blair and even set some stuff up for Gossip Girl season 3! But I digress...
Although the episode started off with Blair's ego at epically inflated proportions, everybody got taken down a notch (or 50) when those Gossip Girl blasts started hitting. Turns out the real culprit with none other than Miss Carr. Damn, it didn't take long for her to go mean girl. The UES can do that to a newbie!
Hey, Blair, it's Rachel that's been messing with you. And ... we had sex in the costume closet. So, do what you want with that.

Dan
Damn Lonely Boy, look at you getting a set of balls. Dan really paraded out of that situation with a real IDGAF attitude. The only the is...how could he be so made at Rachel for sending in the tips if he was GG all along and sending out the blasts? I guess he could be mad that she betrayed his trust.
These are the moments that I look back while knowing Dan was Gossip Girl and think "What the hell? There's no way he was GG from day 1. No. Way."
It was said to see Serena and Blair turn so easily on each other but that's really nothing new. They are some of the worst best friends of all time. Sorry I hate to say it, but they were like Peyton and Brooke on One Tree Hill. One minute they are ride or die besties and the next they stab each other in the back.
So back to this play for a moment: great choice on behalf of the school. Super fitting of everthing this show is about.
On the Upper East Side, all the world's a stage and the men and women merely players. But once a year, Constance St Jude's students shed their usual roles and take on new ones for the Senior Class play. This year's pick? "The Age of Innocence." Before Gossip Girl, there was Edith Wharton, and how little has changed. The same Society snobs still reigned, only in corsets and horse-drawn carriages.

Gossip Girl
Then, the fact that Chuck got out of it by having a doctor's note that said he had "acute stage fright" was AMAZING. Nate's verbal takedown of the director was also AMAZING.
Overall, I have to agree with the guy Julian was trying to impress: having the kids air out their real life drama in the second act was brilliant...even if it was by accident. 
This episode was one of the highlights of Gossip Girl season 2. It also helped breathe some life into the back half of the season after a mediocre middle area. Now that Blair lost Yale, all hell is about to break loose. And I for one, can't wait to rewatch and relive!
If you need to catch up, watch Gossip Girl online anytime and then chime in in the comments!