Gotham Season 1 Episode 5 Review: Viper

Sean McKenna at . Updated at .
I'm still torn about Gotham.
On the one hand, there is a good amount to enjoy from things such as Robin Lord Taylor's Oswald Cobblepot portrayal to the concept of Jim Gordon trying to do his police job in a world that is falling into further chaos.
But then there are things like Bruce Wayne saying and doing things that would seem far more normal coming out of a much older version of the character, one perhaps closer to the cusp of becoming Batman than the very early teenaged version that we do see. Or the fact that we get characters and villains that would seem right at home with Arnold Schwarzenegger's pun-loving Mr. Freeze.
So I always end up with a mixed bag of feelings when I really just want to be saying "Awesome" like the super-mature Bruce.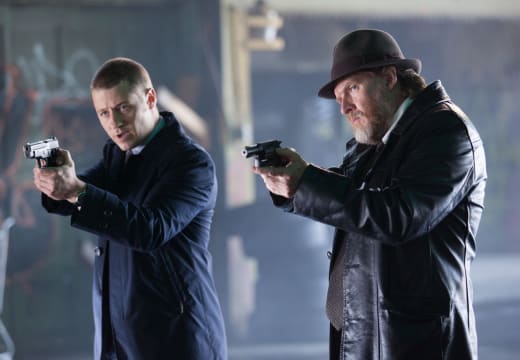 For instance, the whole Gotham Season 1 Episode 5 case/villain of the week involving Stan Topolski and his "Viper" drug is a cool nod to Bane, the Batman villain who uses a later form of the drug called "Venom." It wasn't a DC mention that was shoved in viewers' faces like the weird little plant girl named Ivy in Gotham Season 1 Episode 1 or the repeated use of Oswald's nickname, Penguin, in this particular hour.
It also made sense to connect the making of the drug to Wayne Enterprises, which seems to be connected to a lot of things in Gotham (you know, like Arkham). It's not surprising to see perhaps some corruption there, but I'd be curious to know if Thomas and Martha Wayne weren't necessarily the "good guys" we all seem to think they were. Might they have been involved in some shady business before they were killed?
That would certainly be a different take on the Batman mythos, although I'm sure Bruce's adventures in exciting paperwork will get him to the truth.
It's not that I don't think we should see Bruce, it's just I feel we see him too often and doing things that don't seem to fit with his age. Sure, we can call him mature or argue that his parents' deaths were the trigger to his obsession with figuring out Gotham, etc. And who am I to say what might make him act a certain way?
But it feels like too much, too soon. The actions Bruce is taking, the dialogue he is speaking feels much more suited to perhaps an older Bruce. And it brings me back to not feeling it necessary to see Bruce all the time, especially since this show isn't about Batman. Every now and again is fine, but I'm not interested in watching little Bruce have chats about speaking with board members.
I'm much more invested in seeing someone like Jim having a sit down with Sal Maroni to discuss his "friendship" with Oswald. It really makes me wish Jim had a friend or somebody he could actually trust, because to see Oswald whispering "thank you" isn't that reassuring gesture. And now Sal seems to think he's got Jim in his pocket?
But wow that head slam to the table for Oswald. Poor guy. Just trying to help out another bad guy, though it's tough to be worried for him when we all know he eventually comes out on top. But I guess it's good to see just how he rises through the ranks. I wouldn't be surprised if he takes out more than one major crime boss.
While Fish seems to be headed in that direction, I still have a hard time taking her seriously. Maybe that's the point, but it often makes me less interested in what she's up to, whether she's tying up men in bed or "training" Liza.
Clearly Liza is off to a good start with Carmine and sharing some music together (personally, I took Carmine for a Taylor Swift fan), but it was a much quieter way to end the hour.
I'm intrigued by the various power players and just how Jim fits into all of it much more than the random reminders that Selina Kyle -- I mean Cat -- are on the show. And It makes me wonder just what the plan is with regard to that larger story rather than what reference or throw-away character will be introduced in each episode.
So like I said, there are good aspects about this show as much as there are flawed things, but it's clear that Gotham is continuing to work all that out.
What did you think? Might we see Bane? Should we see more of Bruce? Sound off below and be sure to catch up on the latest episodes when you watch Gotham online.
And here's your first look at Gotham Season 1 Episode 6, "Spirit of the Goat."
Sean McKenna was a TV Fanatic Staff Writer. He retired in May of 2017. Follow him on Twitter.