Gotham Season 1 Episode 6 Review: Spirit of The Goat

Sean McKenna at . Updated at .
Gotham continues to be a mixed bag.
Interestingly, Gotham Season 1 Episode 6 was written by Ben Edlund (notable for his work on Supernatural and the short-lived Revolution). So for me, there was plenty of promise to the hour, but that's something I've been holding onto for six episodes. Promise and potential.
And the show arguably still has plenty of that, especially after allowing a good portion of this hour to let the characters be a bit more than just names recognized in the Batman universe.
But at the same time, and considering that Edlund also is a producer, the sixth episode maintains the sense that the series wants to hold onto a darkly violent world that's mixed with a more exaggerated and cartoony presence. I'm warming up to certain aspects of that campiness, but there's plenty of times where it takes me completely out of the show.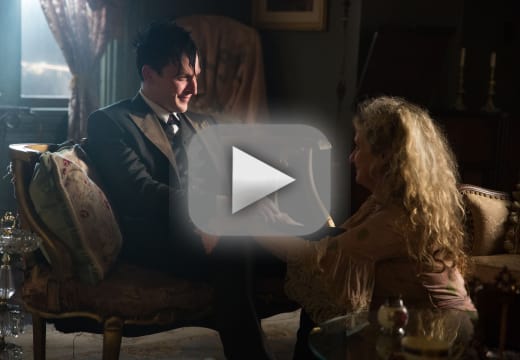 I still can't help but laugh at a ridiculous line like "Holy ghost on a bicycle." Maybe it's supposed to be fun or evoke that old school shtick of an era long gone, but it just feels jarringly out of place.
And if it hasn't been shoved down your throat enough yet that Edward Nygma is indeed the future Riddler, the hour really zeroes in on that with copious uses of the word "riddles," or Edward asking riddles or putting a question mark on his cup. Because while I actually thought the question mark on the cup was a neat little nod, I wish that those references weren't so in viewers' faces overall. It would be much cooler if there was something subtle that might take time for more fans to notice, but it would be a much more satisfying Easter egg in the end.
However, I really appreciated that Edward had more time to participate in the story rather than just ask a riddle and have Harvey brush him off.
Yes, the character still grasps at aspects of being a cartoon, even his conversation with Kristen Kringle felt like one. And yet, seeing him actually hold a conversation, discuss his unique way to organize or even inform Harvey and Jim Gordon about the case was a major step up for the character. It's a slow going process, but I was actually much more interested in seeing his character developed. And I truly hope we will. He's just odd enough now, but what will eventually switch him into that villain role we all know?
And it's notable that both Edward and Harvey, who teeter much closer to the side of in-your face cartoon, had the opportunity to get some real focus and exploration. And that certainly helps both for the show and the characters themselves.
Because Harvey too has his tendencies to feel campy, but it was great to see a brief flashback of a character who used to believe in doing good and helping others. He hadn't yet been jaded by his over-time experiences with Gotham.
So I liked the comparisons of his former police days to that of his and Jim's partnership.
What's more, we got to see him show some care and concern for his old partner (great guest spot by Dan Hedaya). There is that softer spot deep down.
I even laughed at his comments about beating Jim to the crime scene.
Working in the whole Spirit of the Goat story, as silly as that sounds, did provide a past and backstory for Harvey's character.
But was the Spirit of the Goat supposed to resemble Batman? Was that voice change after the mask went on supposed to? Or am I just yearning for Batman to appear on some level?
I'd certainly like to get to know Jim more, though it looks like his drama with Barbara was quickly extinguished, and I was wondering just how he his arrest would hold with only one "eye-witness" and no body.
So it was rather a neat close to see Oswald appear (he does get some great entrances, doesn't he?) and basically eliminate Jim being in trouble.
But how will that play out? Is Oswald trying to be a good guy and help the police? Does he have an ulterior motive? And just how strained will Jim and Harvey's relationship be now?
If anything, Gotham still has me wanting to come back for more, even though it clearly needs to improve upon its balancing act of dark and cartoony aspects. And sometimes I feel like I have a love-hate relationship with the series, especially because of what I feel the show can and should eventually grow into. Certainly, this hour was a much better step in the right direction, but it's still got a way to go before it becomes a truly fantastic show.
What do you think? Did you enjoy learning more about Harvey? What's in store for the show? Be sure to watch Gotham online to catch up and then join in the comment section below.
And here is your first look ahead to Gotham Season 1 Episode 7:
Sean McKenna was a TV Fanatic Staff Writer. He retired in May of 2017. Follow him on Twitter.