Gracepoint Season 1 Episode 2 Review: Episode 2

Henry A. Otero at . Updated at .
Unfortunately, in homicide cases like this one it's not uncommon for family members to become suspects.
What was interesting about Gracepoint Season 1 Episode 2 is that Danny's father, Mark, lied to the Detectives regarding his whereabouts the night his son was killed. Was he involved or is there something else he's covering up?
Why does the creepy old lady with the dog have Danny's skateboard in her closet?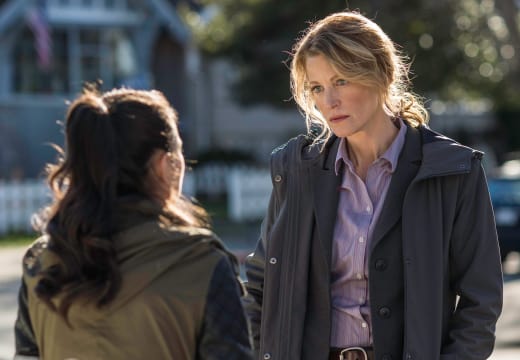 This week's episode begins with Detective Carver following Danny's route on a map to a little house in the middle of nowhere.
He spots a security camera, which later reveals that Mark, the boy's father, lied regarding his whereabouts. Do you think Mark's guilty or was he meeting someone else out there? It's entirely possible Mark is lying because he was having an affair and keeping it secret.
So Carver wants a list of suspects. Why would the family put together their own list accusing their own friends of the murder? I tend to agree with Carver, perhaps they're trying to point the Detectives in the wrong direction.
The Solano's would really just like to bury their son, but Ellie informs them...
We can not allow the body to be buried until we're sure we've got the right person.

Ellie
Five hundred dollars cash was found taped underneath Danny's bed. I'm not sure that money is connected to the cocaine at all. It appears Chloe's boyfriend provided the stuff so Gemma Fisher's clients could party. Why did Danny have this money? Was he blackmailing someone?
Gemma Fisher scolded some jerk that was more concerned in the local tourism suffering than the fact a boy was killed. Perhaps she's not so awful after all?
It doesn't seem very smart of Jack Reinhold to come forward now with this story about Danny and a young fellow with a bandana talking. Why didn't he mention this before? And who was that backpacker anyway? Was he just passing through or did Danny know him? I still think Jack is too obvious a suspect.
There was a scene where Carver spilled his coffee, and rushed to the bathroom to inject himself -- anaphylactic shock? I'm not sure what that was all about. Any idea guys?
Also not sure what to make of the so called clairvoyant that claimed Danny's reaching out to him from beyond the grave. Carver mocked him -- "the telephone guy who hears voices" -- and it was hilarious. Do his words "she says she forgives you... about the pendant" have anything to do with the Redmont case?
Carver questioned Ellie about her first murder case and whether she's finding it difficult. It's interesting that she believed "The Solano's did not hurt Danny." I wonder if she's changed her tune now since Mark appears to be involved.
It's a simple truth Miller. Anybody's capable of murder given the right circumstances.

Carver
Like Jack, I find Susan Wright (the creepy lady with the dog) almost too obvious a suspect. Still, what the hell is she doing with Danny's skateboard? I'm fairly certain she knows more than she's letting on.
While going through Danny's things, a journal was discovered on his computer. Hearing the boy say "Dad's really gonna kill me now" is not going to help Mark's case. What was in those files Tom erased? Are some of the answers we're looking for in those files?
And why did Mark rough up the priest? Because he's crushing on Beth? I don't think the priest is involved; what's the motive?
Once again Carver asked Mark where he was the night of the murder and the guy lied right to his face.
Danny's blood and sneakers prove the boy was killed at the little house and later dropped two miles down the coast. Why were prints belonging to Mark Solano found at that house? Mark's obviously covering something up. Perhaps he's protecting someone?
My guess is Mark was having an affair and sneaking around but he's not responsible for what happened to his son. Either way, Carver's going to come down hard on him and starting next week we've got our first major suspect.
What did you think of this week's installment? Do you think the family is involved in Danny's murder? It not, then who? You're up my fellow TV fanatics, hit the comments below and let's talk Episode 2.

If you've missed an installment, remember you can watch Gracepoint online right here via TV Fanatic!