Gracepoint Season 1 Episode 4 Review: Episode 4

Henry A. Otero at . Updated at .
Well not only is Reinhold's backpacker real, but he has a name - Lars Pierson.
If you read my Gracepoint Season 1 Episode 3 review you know I caught the difference in the phone numbers last week. The number found in Danny's jacket (707-555-0109) belonged to Pierson.
That doesn't mean the psychic is innocent mind you, only that the writers were attempting to mislead us.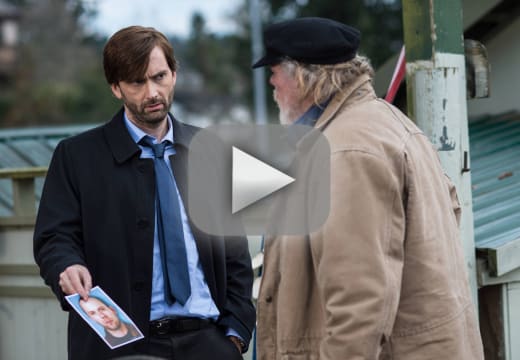 This Pierson guy is a war veteran on anti-psychotics and lives alone in a cabin. Gracepoint Season 1 Episode 4 was pretty heavily pushing us to add Pierson to our list of suspects wouldn't you say? 
Does he seem too obvious a suspect to you? Perhaps, but the things right under our noses are sometimes the ones we tend to overlook.
Pierson's cell phone number was found in the lining of Danny's jacket. I want to know why. I want to know if Pierson is linked to the $500 found in Danny's room. I want to know if the $500 is linked to the drugs found in the Solano house. I want to know if Pierson has Danny's skateboard and cell phone.

Carver
Chloe shows up at the station and tells Ellie that her boyfriend's a good guy. Four months? How well can she possibly know the dude? Ah youth is definitely wasted on the young Ha!
Good thing Ellie doesn't buy it and they pay Dean a visit. The kid makes a run for it, instantly making him seem much more guilty.
What happened to Carver during that chase by the way? Was it a panic attack or is it his heart? We need more information on his condition. I didn't catch what medication he's taking, did you?
Drug dealer Mickey Felton throws Dean under the bus. It turns out Danny was with Dean when he bought the cocaine. Why all the lies jeez?

And what's up with the old lady with the dog? Why did she lie about Mark Solano working at the hut? I'm convinced she knows and is protecting the killer. Remember she also has the skateboard.
Also what exactly does she have to work out with Vince? Their meeting sure was fishy wasn't it? Are we supposed to believe it's him she's protecting?

Meanwhile, Beth confides in the creepy priest. She tells him everything Raymond the psychic told her Danny said. I don't quite get the priest yet. I'm assuming Mark is either jealous of Paul or an atheist. He claims he's never wanted anything to do with Paul. So something's up for sure.
I was surprised by how aggressive and unstable he was toward Raymond though. The psychic hints at Paul's past with Beth. Is he still in love with her? Is this more of a life-long obsession?
Interesting that Ellie mentioned her son was Danny's best friend yet Dean never saw them together. Were the two kids really as close as their parents believed?
Danny was a lonely kid alright. He was always looking for a friend. Sometimes he'd ask me to hang out, take him for rides, play video games.

Dean
Before we ever saw security footage of Danny stealing at the gas station I believed Dean was telling the truth. Though he reacted oddly when first approached by the detectives, it didn't seem he was the killer. His story checked out, so on to the next suspect.

Ellie is just way too nice, it bugged me the way Beth was talking to her. Did you expect Beth would recognize the guy in the photo? I certainly didn't. Lars Pierson was at the visitor center where Beth works. Her description and Jack Reinhold's totally matched up.
Beth: He was strange Ellie. Perfectly civil but odd. He noticed a picture of Danny and Chloe on my desk. He asked if they were my kids.
Ellie: So he asked about Danny?
Beth: He said I had a beautiful family.
Vince is still at the top of my list of suspects and Tom's visit was a bit strange no? Why did he close the barn door so mysteriously? Hmmm
After dinner Tom was sneaking around in his mother's briefcase. Did he recognize Lars' photo? Why would he look up the man's phone number? Does he plan to go visit Lars? For what purpose?

Didn't Carver come across as insensitive while showing the security footage to the Solano family. Ellie was much more tactful talking about transparency and sharing their findings. Of course, nothing made sense to Beth until Mark tells her Dean is Chloe's boyfriend. So many secrets in this family, do any of them know each other at all?
It is too much for me Mark. How you can spend your whole life with people, devote every waking second and God I feel like such a fool. I don't even know my own family.

Beth
That was the perfect opportunity for Mark to come clean about his affair. Poor Beth, it's no wonder she's not a very likeable character on the show.
The scene where Ellie invites Carver to dinner was hilarious. That dinner is going to be something else, can't wait. Do you think we'll learn more about Carver? He calls someone toward the end of the episode. Does he have a daughter? Is this girl connected to that Rosemont case that went wrong?

I'm not sure how Owen's mother and her financial issues fits in with all this. However, it was just a matter of time before he and Renee hooked up.
Okay now we've got a burning boat too. I'm assuming that's the boat the killer used to transfer Danny's body to the opposite shore. Will there be any DNA left or will the fire destroy any evidence that could help the case? I can't wait to find out next week!
What did you think of the fourth episode of Gracepoint? Did you think Dean was innocent? Is Pierson at the top of your suspect list? You're up guys, hit the comments below and share your thoughts or questions with us.

Miss any clues or need to catch up? Remember you can watch Gracepoint online right here via TV Fanatic!