Grey's Anatomy Season 11 Episode 3 Review: Try, Try, Try Again

Christina Tran at . Updated at .
There are so many shows that I keep watching out of loyalty. Grey's Anatomy is the exception. Even in its 11th season, I'm seriously still loving that Shonda and company are totally bringing their A-game. 
Honestly, of course I miss the earliest seasons, but Grey's Anatomy Season 11 Episode 3 felt oddly familiar... yet also different in so many ways.
Nonetheless, I can't help that week in and week out my eyes are glued to the TV set. Every Thursday night I find myself scribbling down every amazing quote, trying to memorize the awesome song choices and relating to some of the doctor's weekly struggles.
Most of "Got to be Real" was all about the struggles of trying, never giving up and succeeding in the end. So, what went down? Let's discuss!
Like many of you, I was very apprehensive of Meredith getting yet another sister. However, so far, Maggie isn't really all that bad. How she reacted to Webber's confession was completely believable. I hated that she called him a coward, but he did choose not to speak up. Can you blame the guy, though?
It was heartbreaking when Webber confessed to Meredith that he never knew about Maggie and would have wanted to be a father. He was rightfully upset, and it can't be long until Webber or Meredith tell Maggie the truth about him never even knowing she existed until recently.
I thought it was very interesting that Meredith didn't tell Derek about the Maggie news. Then again, the McDreamy family isn't so dreamy right now with Derek feeling like Meredith forced him into a corner and made the decision for him to not take the D.C. job. As for Meredith, she never asked Derek to not take the job and all of that sort of leaves their marriage on a very slippery slope. 
They need to communicate and figure out their problems - STAT! Surely, two people with driven careers and children can do so, right? RIGHT?!?
Just don't look to Calzona, as they were dealing with a very similar situation. With Arizona and her fellowship and Callie working on her new prosthetics for vets project with Owen and Jackson, things are getting very hectic for these two.
I liked that they were both on the same page to add to their family initially, but they've got so much going on as is and I'm not sure if they are even on the same page. I actually could see where Callie was coming from when she realized that Arizona wasn't ready.
By the way, things sure did get heated when Owen and Callie argued in the hallway. Talk about tension!
Elsewhere, with Amelia as chief of neurology and Derek taking a backseat, there was major sibling drama. I must admit that I loved every bit of it. While they both made some valid points, it should be interesting to see how things play out, as it seems like Derek isn't going anywhere and Amelia isn't ready to give up her new role just yet. 
As for April, she found herself caught in the middle of the Shepherds' war while Jackson was just about to add hall monitor to his resume. It's kind of strange not seeing Japril together since we saw so much of them in Grey's Anatomy Season 10.
Other Thoughts:
What did you think about Owen confiding in Callie about feeling his dreams are over now that Cristina's gone? I was floored.

I love seeing Alex and Meredith together, but I'm missing Jolex moments like crazy. 
Are you glad that the board ruled Bailey should get the open seat and not Alex? I was rooting for the latter. Poor Alex! When is he going to catch a break?!
I laughed hysterically when Bailey took a selfie with the guy with a tree through his stomach. Hilarious!
Be sure to check out our Grey's Anatomy quotes to rehash some of the best moments.
Overall, I liked this installment and the focus on all of the relationships at Grey-Sloan Memorial Hospital. I'm intrigued to see what else the writers have up their sleeves and how the storylines progress. I'd also like to see some more interesting medical cases that will remind me there's much more to this show than just the drama.
So, what did you think of "Got to be Real?" Whose fight was the most intense? What are you hopes for Grey's Anatomy Season 11?
Don't forget, you can watch Grey's Anatomy online any time via TV Fanatic to catch up with your favorite doctors!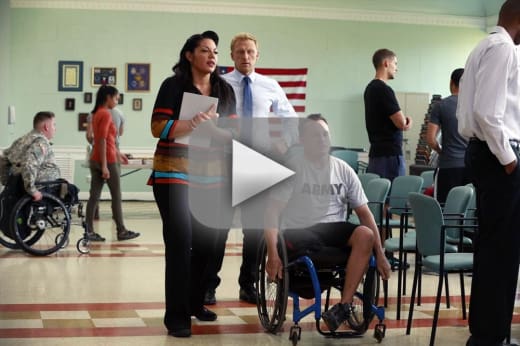 And, finally, here's a look ahead to Grey's Anatomy Season 11 Episode 4, "Only Mama Knows."